Coming This July:
Nasdaq Center's Youth Entrepreneurial Camp with Girls Crushing It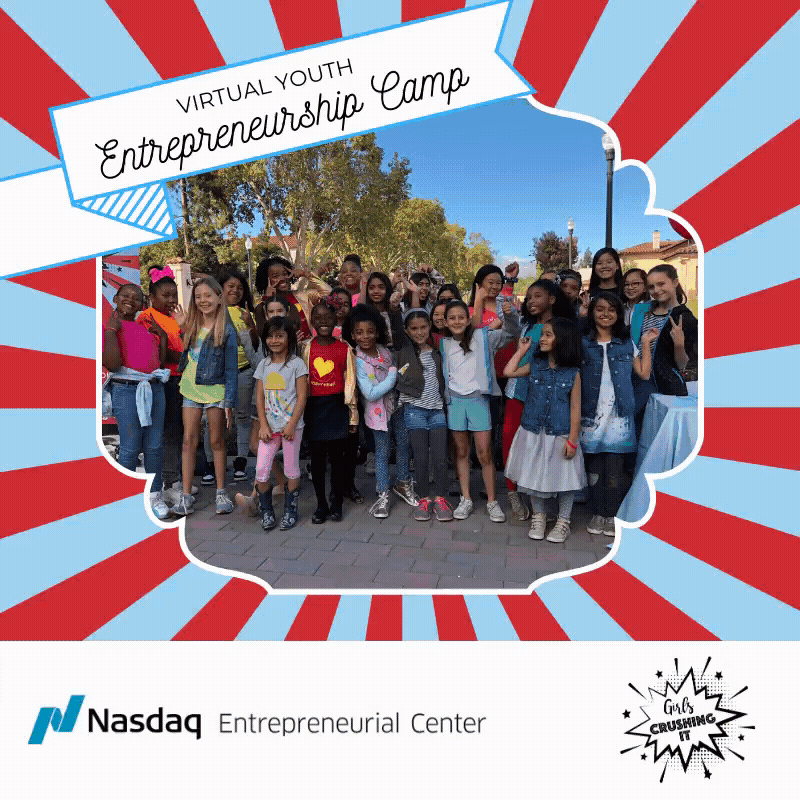 Nasdaq Entrepreneurial Center is pleased to announce our partnership with Girls Crushing It.
Combining the Center's vision of inspiring the next generation of risk-takers and idea makers with the Girls Crushing It mission of empowering girls through entrepreneurship, we are uniquely positioned to equip girls with the confidence and knowledge to write their own stories.
Fact: Between ages 8 and 14, girls' confidence levels drop by 30% and lack of confidence can alter their career trajectories and limit career options.
The Center's Youth Entrepreneurial Camp with Girls Crushing It is designed to increase confidence, leadership skills and financial acumen in girls ages 10 – 14.
We are currently accepting applications for the following free courses.
Applications are due by July 7th at noon!
---
Course #1: Entrepreneurship 101
This entry-level course is ideal for someone who is in the early stages of starting a business or someone who wants to get a business kickstarted. No previous experience is required.
Course outline:
July 13: Identifying an Idea
Identify an idea for a product or service based on your passion or a market need
Define target customer
Brainstorm products for customer avatars
Homework: Design a customer avatar for your product
July 15: Developing a Product/Service & Sales Pitch
Benchmark product and services
Identify processes and tools that will help you scale
Calculate cost, price and margin to ensure profitably
Develop a sales pitch
Homework: develop a 30-second sales pitch using the pitch worksheet
July 17: Launching Your Product/Service
Deliver a 30-second sales pitch based on your pitch homework
Branding, marketing, merchandising, price elasticity and processing sales
Iterate based on market feedback
Sales channels i.e. pop-up shops, brick and mortar retail and online sales
Class Meets Virtually
Age
Tuition
Application
1 Week: July 13, 15, 17
1:00 – 2:30 PM (PDT)
10 – 14
Free
Application Deadline:
July 7 at noon
---
Course #2 : Give Your Business a Social Distancing Makeover
Utilizing a design thinking framework, this intermediate course is tailored for someone who has an existing product or business and would like to learn how to pivot their business model to operate under limitations imposed by COVID.
Course outline:
July 19: Empathize and Define
Panel discussion: Local business owners discussing how they have pivoted due to COVID
Introduction to design thinking framework
Identify constraints placed on your business
Articulate how customers might be feeling and how you can cater to that
Homework – Use the worksheet to identify problems facing your business
July 26: Ideate, Prototype and Test
Share business problems from homework
Identify strategies for "social distancing" your business
Brainstorm ways for customer avatars to "social distance" their businesses
Develop a business plan to launch and test your "social distancing" business model
Class Meets Virtually
Age
Tuition
Application
Two consecutive Sundays:
July 19 and 26
2:00 – 3:30 PM (PDT)
10 – 14
Free
Application Deadline:
July 7 at noon