The Nasdaq Entrepreneurial Center is thrilled to have the following entrepreneurs in its Winter 2020 Milestone Makers cohort. Milestone Makers is the Nasdaq Center's flagship program, providing individualized mentorship and executive coaching, as well as access to the Center's vast network of industry experts to help each founder with his or her milestone. Entrepreneurs in the Winter 2020 cohort were hand selected after a competitive application process. Find out more about the Milestone Makers program here.

"Ends+Stems is a meal planning service founded by a professional chef. 40% of food is wasted in our homes, but busy families are stressed out wondering: "What's for dinner tonight?" We curate easy, family-friendly menus for all diets and preferences, solving the mental labor of dinner planning. Try our method to save time, effortlessly reduce your food waste, and enjoy meal time again.  "
"Oppizi enables Brands to track, scale and optimize their offline marketing campaigns across 3 continents, 6 countries and 52 different cities. Global Tech companies like Uber, DoorDash, DiDi, Deliveroo and many others use Oppizi Technology and Marketing Channels to acquire their customers.  "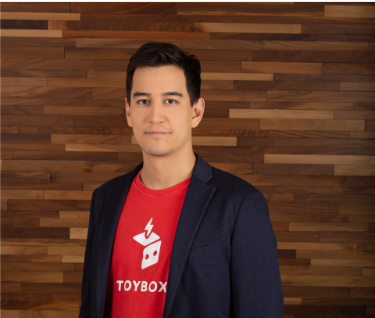 "Toybox is a 3d printer, marketplace, and creativity platform that allows kids to find, design, and print the toys they love right at home. Toybox has served over 500,000 toy prints globally and is averaging a toy print every 20 seconds."

"Hoppin is a job shadowing platform that connects dynamic professionals across industries. Hoppin is the category creator of job shadowing as a service, and the only marketplace that unlocks unprecedented experiential learning opportunities across non-competitive companies and industries. Companies such as Uber, Citi, E*Trade, and Dig Inn are embracing the Hoppin platform to engage and develop their talent. With a data-driven approach that provides personalized recommendations and seamless bookings, alongside our diverse community of hosts and shadowers, we're imagining the future of work with less boundaries and more connection."

"Enviro-gro Farms produces high quality food that is safe, abundant and sustainable while providing increased income, access to market and better resilience and sustainability for the communities we work with.  Enviro-gro empowers people to aspire, dream and achieve by producing healthy, affordable and nutritious food.  We believe that food security creates independence, freedom and agency. "
"3D Continuum develops advanced automation solutions for the infrastructure sector with a current focus on tunneling. Our proprietary technologies are aimed at enabling a faster and more cost effective underground tunneling operation, which will ultimately benefit daily commuters and help alleviate the motorized traffic. "
"Birdie helps you decide what to watch on streaming networks – guaranteeing faster, better choices.  No more scrolling through the seemingly endless inventory on Netflix, Hulu, Amazon, etc – just go to Birdie to find your watchlist across every service."

"Photon Commerce turns any scan, PDF, invoice, or document into a collaboration platform using AI with human-level accuracy. Hundreds of supply chain, logistics, and eCommerce businesses have reduced labor, errors, delays, and loss with Photon's document understanding technology."
"For consumer goods manufacturers that want to cut retail execution costs by 80%, Wisy is a data analytics and task coordination platform that automates store audits with computer vision. Instead of counting facings and checking prices manually, sales reps take shelves pictures that are analyzed by Wisy to provide real-time KPIs."
"Yoga Phamily is a yoga studio made for families. Families get lost in all the to dos and forget to connect with themselves and their families. Our mission is to create a family-friendly community and space to share the wisdom of yoga to foster freedom, peace, and happiness."
"Blinkpad is changing the way people find opportunities and how employers find the best talent. Businesses are able to recruit faster and make their hiring process more scalable than ever before. Individuals are empowered to present their personalized profile in novel ways to showcase and highlight their unique combination of interests and talents. The power of the AI-driven Blinkpad platform finds the best matches between individuals and employers and enables them to connect seamlessly in real-time. "
"The Global Paint for Charity "Global Paint or GPC" is a Non-Governmental Organization designed to solve the logistics of paint waste in the U.S. and Canada to promote a more sustainable, healthier, and more beautiful environment around the world. Since 2010, as many as 320,000 tons of discarded paints have been removed from the waste stream, recycled, then shipped to 42 countries in West Africa, the Caribbean, Central & South America, and targeted areas in the Middle East.  The goal is to use colors to help beautify the local structures, boost people's confidence and happiness, change lives, and assist the vulnerable individuals in reaching their full potential.  Everyone wins!!! At Global Paint, we believe that everyone, no matter their circumstances, deserves to live in a beautiful and colorful environment.  Increasing access to paint in underserved communities could improve the local economic power for millions of vulnerable families and uplift the spirit of the less fortunate individuals for many years to come.  "
"Hippo Mobility is committed to providing hygienic, safe, and comfortable Wheelchair Access Vehicle transportation for disabled and non-emergency patients. Whether it is a safe ride home after being discharged from the hospital, sanitized transportation for dialysis and chemotherapy, or to experience the simple joy of travelling despite a disability, Hippo mobility makes it happen.  "
"Angelwish makes it simple yet rewarding for corporations to empower and engage their employees to support the needs of children living with chronic illnesses through digital philanthropy. Granting a holiday or birthday wish nearby or across the globe takes less than 5 minutes with Angelwish, and the impact that it has on a child is everlasting. "
"Trokero is the bridge that connects truckers to shippers, Founded by a United States Army Veteran who specialized in cargo logistics from Seattle WA, Trokero knows the value of reliable Truck Drivers. Trokero pillars are building relationships that enhance efficiency and productivity for seamless on-demand trucking logistics. "
---
 Find out more about the Milestone Makers program here.
Do you have a unique perspective in your industry or field that you would like to share as a mentor?
Apply to be a mentor for the Milestone Makers at the Nasdaq Entrepreneurial Center and pay it forward.