Tony Rice II (center) with co-founders Jourdan Sutton and Kareem Edwards
Tony Rice II is Co-Founder and Executive Director of Next Wave in Business (NWB), where he specializes in strategy, fundraising, and corporate partnerships. He also has 10+ years of professional experience in the public and private sectors at companies including Google and Deloitte. Founded in 2017, Next Wave in Business (NWB) is a 501(c)(3) nonprofit organization that connects Black and Latinx undergraduate students with top companies to help eradicate the opportunity gap.
What does "entrepreneurship" mean to you?
TR: Creating a solution to a common problem
How did your company come to be? 
TR: I was doing workshops at some universities on the east coast. After one of the workshops, a student came up to me. He is a Black man from Brooklyn, NY that comes from a low-income family. He was a first-generation college student, who was told that all he had to do was go to college and he would be able to get the job of his dreams. He chose his school primarily because it was close to home and he was offered a full-tuition scholarship. Unfortunately, he was in the last semester of his undergraduate experience and despite having a great GPA and professional experience he was not able to get a job at the companies he wanted because they didn't recruit on his campus. After some research, I later found that only 1% of colleges/universities in the country are considered "target schools", leaving talented college students across the country without internship and/or full-time opportunities. Reflecting on my experience, I realized that there was a need from companies for diverse talent and if I could create an organization that could address that need it would benefit those companies and the students.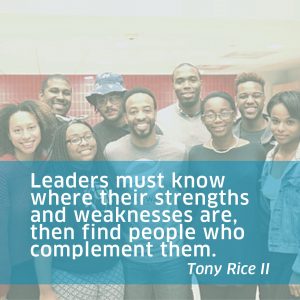 How has your business changed in response to the COVID-19 pandemic?
TR: We offer three services: newsletter, workshops, and conferences. We spoke to our students (we call them "Scholars"), Advisory Board members, and corporate partners to get their feedback. After these discussions, we decided to shift our workshops and conference from in-person to virtual without sacrificing the quality or impact that our students and corporate partners expect. We have been able to leverage our network and Advisory Board to put together some great content in various virtual formats and look forward to having our events this year.
What is your proudest and darkest moment so far?
TR: My proudest moment was our first conference. Whenever you do something for the first time there is a natural feeling of anxiety. You wonder if it will actually work out or not. More than 60 students attended the conference with half receiving interview offers, and 95% stating they would recommend it to another student. My darkest moment would be our last conference. Unfortunately, I was unable to attend due to an injury. However, my team was able to find a way for me to participate via phone.
How is your company changing the landscape?
TR: We collect a metric that allows us to prove that we are expanding the talent pool when compared to our peer organizations. This metric demonstrates to our partners that they would never have me our Scholars if it wasn't for NWB, which connects back to the original reason our organization was started.
What do you wish you knew when you started? Is there anything you would do differently?
TR: A CEO of a tech company provided some great advice. She asked me how I would engage students on a year-round basis. At that time, we were only doing workshops and conferences. Her advice led to us creating the newsletter, which has been our most impactful Scholar recruitment tool.
What advice/credo do you live by as you grow the business / what is your professional and personal mission statement?
TR: Help people and organizations maximize their potential.
Where do you find inspiration when faced with challenges?
TR: Family. My mother is an immigrant from Haiti. My father grew up in the segregated South. Knowing what they had to go through for me to have the opportunities I have had makes me motivated to make them proud.
What does "success" look like for you? What do you think will help you achieve it?
TR: NWB to become the best source of Black and Latinx talent. Continuous improvement of our programming by keeping the interest of Scholars at the forefront of everything we do will help us meet this goal.
Has personal or professional "success" changed for you since the COVID-19 pandemic?
TR: The pandemic has made us think about innovative ways to achieve our success.
What's it like to work alone or with your partners? What advice do you have for fellow entrepreneurs about building and leading teams?
TR: Leaders must know where their strengths and weaknesses are, then find people who complement them. I have a great Leadership Team that is able to make sure that we live the mission, vision, and values of our organization.
Many entrepreneurs continue to perfect their daily routines to support their work and greater vision; would you mind sharing your morning routine or a regular ritual that grounds your work each day? How has it changed in recent months?
TR: Reading a chapter a day, going for walks, and reading the news are activities that help keep me informed and active.
What keeps you motivated during this time?
TR: Knowing that what we do as an organization has the potential to not only change the lives of our Scholars, but also their friends and family.
What kind of an entrepreneur do you want to be known as, as in, what do you want your legacy to be?
TR: A long lineage of Scholars who have been able to achieve their dream
What is a quote or some words of wisdom that help get you through the tough days?
TR: The only thing constant in life is change.

---
Do you have someone you'd like to nominate to be profiled in our Faces of Entrepreneurship series? Please let us know by emailing media@thecenter.nasdaq.org.