Dr. Shereene Idriss, M.D., is a Board-certified Dermatologist, Founder of Idriss Dermatology in NYC, creator of the #PillowtalkDerm series on Instagram, and the Founder of PillowtalkDerm, a collection of science-backed skincare solutions that help you look like the best version of yourself. Dr. Idriss, unlike other top-name dermatologist influencers, is known on many social media platforms for speaking about skincare in a deep-down, nitty-gritty, science-based, true story way, no matter who disagrees.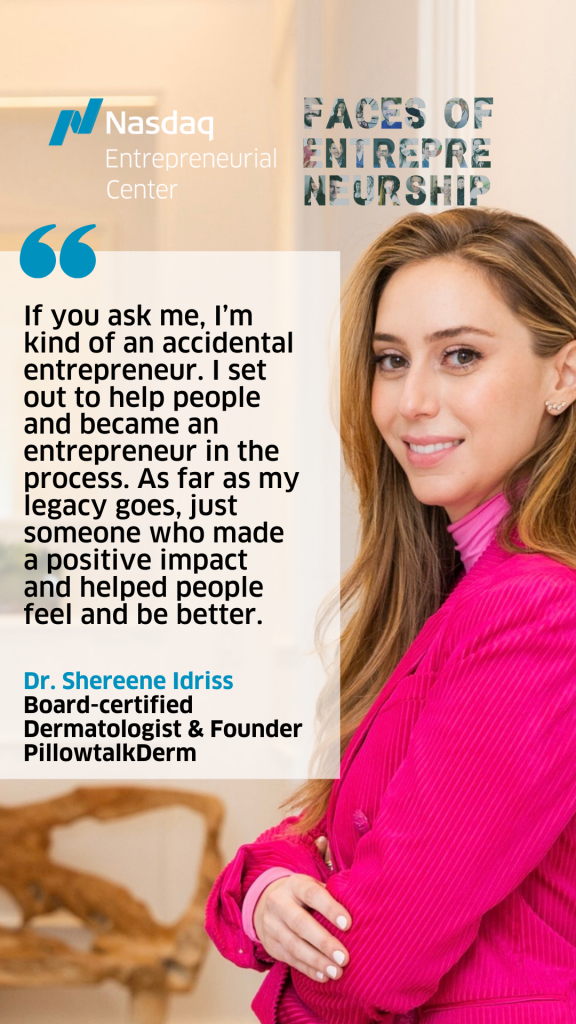 What does "entrepreneurship" mean to you?
Dr. Shereene Idriss: Entrepreneurship has given me the ability to be creative and actually make the difference I want to see in the industry. Going beyond the red tape, if you will.
Tell us about your first experience with entrepreneurship.
SI: My first experience with entrepreneurship can be summarized in a quote I often hear my husband say, "Everyone has a plan 'till they get punched in the mouth" – Mike Tyson. This has proven to be true too many times as I've had so many curve balls thrown my way in only my first year in business. From a literal fire in my practice not even six months into being up and running to a metaphorical fire that tried to take me out of business before I even started. It reinforced the importance of being able to ebb and flow with whatever life throws at you.
What is your company's origin story? What is the biggest reason you started your business?
SI: I started all of this with one driving purpose: to help people help themselves. As a physician, it's what I do on a daily basis. My care doesn't start and end with the time my patients spend in-office, it's also about providing them with the right "tools" so that they are empowered to help themselves in their everyday lives.
I, myself, was frustrated by all of the confusion in the marketplace when it came to skincare and beauty products. My only goal at the time was to help provide some clarity among all the noise and misinformation. Educate to empower and help people beyond the walls of an exam room.
What did those early days look like and teach you?
SI: Going back to very early days…I simply got on Instagram stories one evening from my bed and just started speaking, about skincare, cosmetic procedures and treatments etc., without fully knowing the power of social media. It wasn't at all premeditated. I happened to always be on stories in my pajamas from my bed, as if I was giving Pillowtalks someone said, hence PillowtalkDerm. It was then that I learned the power of social media and how much of a difference I can make for people by sharing knowledge online. Not only have I been able to help more people by doing so, but I also have more insightful conversations with my patients in practice because they're walking in already informed.
As far as early days of entrepreneurship goes, well I'm still here.
What do you wish you knew when you started? Is there anything you would do differently?
SI: Thank God I knew nothing! I think being naive allowed me to dream even bigger, because if I knew the struggles ahead, I don't know that I would've ever done it.
What does "success" look like for you? We'd love to hear your biggest, boldest dream? What do you think will help you achieve it?
SI: Success for me as an entrepreneur is continuing to create a thriving environment for my team, where they feel eager and excited to grow together and make a difference.
My biggest and boldest dream? My hope is that we're able to create a reflection of what we've built on social media across the world. I would love to be able to start our own charity providing opportunities for young girls in underprivileged and underserved communities around the world.
What is your superpower as an entrepreneur? What is your proudest and darkest moment so far? Share a key high and a key low from your journey if you can.
SI: I think adaptability, being able to pivot when needed, because as I've said I've learned "Everyone has a plan 'till they get punched in the mouth" – Mike Tyson
My proudest moment has been seeing my team grow and the overwhelming amount of positive feedback we received all around when we launched.
My darkest moment was being knocked down by people I viewed as mentors.
High is definitely the launch of PillowtalkDerm. It's almost like getting ready for birth. Months and months of preparation, leading up to the one moment, but you forget the baby comes home with you after you give birth in the hospital and there's a whole ride ahead of you after that.
What are your personal driving principals, your top values?
SI: Honesty and integrity. It's the basis on which I've formed all of my relationships, personal and professional. As well as genuinely doing things from a place of wanting to help others help themselves.
How have your personal principles and values shaped your company's values and principles?
SI: My principles and values reflect in my business and team members as those are the values I look for in people. As a brand, we choose to go above and beyond to help people in any way we can whether or not that results in a sale. For example, we have customers email and message us on Instagram about all sorts of skin issues. As long as we're not crossing the border of giving medical advice we try to help in any way we can even if it does not relate to our products.
What's it like to work alone or with your partners?
SI: My team makes me better and I value different opinions. Therefore, regardless if it relates to a person's role or not I encourage collaboration and everyone's opinions to be shared and heard.
Do you have a mentor? Tell us about what makes them valuable to you and your business?
SI: I have many mentors, some who probably don't even know I exist because I truly believe you can learn something from everyone's story. Mentors for me come in all shapes and forms. I've learned from people what to do and what not to do.
What role does mentorship play in your world (as a mentor or mentee)?
SI: I have a few mentors in my life who have helped guide me both personally and professionally. Brian Bordainick from Starface, is someone who has helped me with the mental facets of entrepreneurship, really being in the right mindset and approaching challenges the right way. I was really inspired by Vicky Tsai's story and many others I've interviewed on my Instagram series with beauty industry founders, One-Night Stand.
Many entrepreneurs continue to perfect their daily routines to support their work and greater vision; would you mind sharing your morning routine or a regular ritual that grounds your work each day?
SI: I've recently started meditating 20 minutes a day in the morning to help ground myself, but this is a new routine I'm trying to keep up with on a daily basis. I was inspired by my husband.
What are you reading or have read?
SI: Astrology zone
Where do you go for inspiration?
SI: Honestly, for me, I have to be alone. Creativity sparks in silence or at 11pm at night when I'm just getting ready to go to sleep.
Do you have a favorite quote, mantra, or words of wisdom to get through the tough days?
SI: "Winners Are Not Those Who Never Fail, But Those Who Never Quit" by Edwin Louis Cole
What is a problem that keeps you up at night?
SI: Existential problems keep me up at night. Paying the bills on time, the pressure to keep everything and everyone afloat, getting a creative bug when I'm ready to fall asleep. I mean, there are too many problems to choose from.
How do you think about helping others through your work?
SI: It's the entire basis of my work and driving purpose so with everything we do we aim to help others help themselves.
What advice do you have for fellow (and aspiring) entrepreneurs building and leading teams?
SI: When it comes to building teams, follow your gut instinct. When it feels right, it's right and when it doesn't feel right cut the cord. Last, be flexible.
What kind of an entrepreneur do you want to be known as – as in, what do you want your legacy to be?
SI: If you ask me, I'm kind of an accidental entrepreneur. I set out to help people and became an entrepreneur in the process. As far as my legacy goes, just someone who made a positive impact and helped people feel and be better.
---
Do you have someone you'd like to nominate to be profiled in our Faces of Entrepreneurship series? Please let us know by emailing media@thecenter.nasdaq.org or submit your nomination using this form.