Born in Alexandria, Egypt and raised in New York City, Moawia Eldeeb is the co-founder and CEO of Tempo, an all-in-one home smart gym that comes with real equipment and uses A.I. technology to give you personalized guidance and recommendations in every workout. Throughout his life, Moawia overcame many obstacles, including homelessness, to rise out of poverty and, on a scholarship provided by the New York Housing Association, attended Columbia University where he worked part-time as a personal trainer. In 2015, he was accepted into Y-Combinator's prestigious Winter '15 class along with his co-founder Josh Augustin. In 2016, he received the Robin Hood Hero of the Year award and was recently honored on Forbes' 30 under 30 list for Consumer Technology.
What does "entrepreneurship" mean to you?
Moawia Eldeeb: To me, entrepreneurship means using innovation to make a difference in your community. It's understanding that while you may not have all the answers, you have a will to learn, take risks and to iterate to solve a collective problem.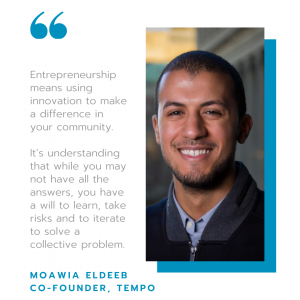 How did your company come to be
ME: To start at the very beginning, my co-founder, Josh Augustin, was actually my client during my days as a personal trainer at our on-campus gym at Columbia University. We discovered that my passion for fitness and his passion for computer vision blended together well and could lead to something much greater.
As my trainer-client relationship grew with Josh, we discussed how personal training is cost-prohibitive for most and the majority of memberships go unused in the first place, be it for lack of time, motivation, or know-how. Not to mention, previous home fitness products that attempted to solve these problems fall short. App-based services lack the necessary equipment, while pricier Internet-enabled devices often do little more than stream videos. Upon recognizing this, we set out to re-imagine home fitness for the 21st century.
The true inception of the idea and company goes back to 2015 when Josh and I developed SmartSpot, a computer vision-augmented smart screen subsequently sold to gyms around the world, and were accepted into Y Combinator W15 class. SmartSpot helped trainers analyze and improve their clients' form, as well as built a huge database of movement patterns. By 2019, we'd collected more than a million discrete exercise tags. We took all the data and used it to develop a program that identifies the most common movement errors, while machine learning continues to refine corrections for each user. With the data from SmartSpot and the continuous gained knowledge from Tempo, the product has matured to utilize more advanced A.I., which analyzes and corrects members' technique itself—both during on-demand classes (with form cues displayed on screen) and live ones (form cues displayed on screen + transmitted back to our trainers to share coaching notes in real-time). We also had to design and provide equipment that would allow the widest range of exercises and modalities in the smallest package. We collaborated closely with design firm, level, to create the most aesthetically pleasing, living room friendly smart fitness machine on the market.
How has your business changed in response to the COVID-19 pandemic?
ME: The recent surge in demand for at-home fitness products has led to a significant growth period for Tempo. With tens of millions of people unable to go to the gym or attend classes in person, consumers' fitness needs have evolved. To meet soaring demand, we recently raised $60M in new funding, which is the largest Series B of any smart fitness company to date. Tempo's current priorities surround an increased manufacturing capacity and expansion of our content offerings with a second production studio.
What is your proudest and darkest moment so far?
ME: After working on this product for nearly six years, one of my proudest moments was finally seeing Tempo in the homes of our members. It's been amazing to see the impact it's had on people and how positively they've been responding. What's most impactful to me is that several of our members are first responders. They've shared how fitness and Tempo have not just supported their physical health but mental health.
One of the biggest challenges we faced was growing a company from 15 people to 78 during a global pandemic. For the past six years, Josh and I had been building a product that we love and have hand-selected everyone we worked with. My goal was to maintain a strong level of connection as we scaled but COVID changed the game. To meet demand, we needed to grow quickly and safely and there was a period of time when I didn't have a relationship with many of our new hires.
How is your company changing the landscape?
ME: With Tempo's launch, we ushered in the next era of smart fitness, bringing together computer vision, artificial intelligence, and human coaches for an unparalleled in-home experience. Until the Tempo Studio began entering our customers' homes, people did not have one, compact solution to provide all the resources required to improve their unique fitness journey. The Tempo Studio is the first home fitness system that combines the equipment of a brick & mortar gym, the guidance of a personal trainer, and the social motivation of a group class and the only one that uses 3D sensors and A.I. to analyze your motion and provide real-time rep counting, form feedback, and weight recommendations in live strength, HIIT, and cardio classes led by expert trainers.
What do you wish you knew when you started? Is there anything you would do differently?
ME: Everyone says entrepreneurship is hard and it takes awhile to find the right product market fit. What I didn't know is that once you found it, it still takes time to develop a strong product. What we thought would take two years took six, and the work still doesn't end.
What advice/credo do you live by as you grow the business / what is your professional and personal mission statement?
ME: Always put people first. At Tempo, we're creating a product that helps people safely make progress towards their fitness goals.
Where do you find inspiration when faced with challenges?
ME: I'm lucky to have built a strong network of peers and mentors that I can call on for support. When faced with challenges, I aim to seek out advice from other people who have faced similar circumstances.
What does "success" look like for you? What do you think will help you achieve it?
ME: Success looks like solving the problem we set out to achieve. At Tempo, we want to help as many people as possible safely and efficiently achieve their fitness goals.
When I was a personal trainer, I could see how many people in the gym were doing exercises wrong. Many people don't have access to coaches, and we want to make safe training accessible to everyone. A workout video, even if it's broadcast live, just doesn't compare to training. That's why Tempo is building technology to bridge the gap between the trainer and you, build that core relationship, and deliver the same hands-on guidance you'd expect from an in-person class.
To achieve it, it means listening to our members, the people around us and building technology that supports them.
Has personal or professional "success" changed for you since the COVID-19 pandemic?
ME: COVID-19 didn't change my vision of success but just accelerated it. Success to me is helping as many people live healthy and active lifestyles as possible and with gyms closed, we now need to do it faster than before.
What's it like to work alone or with your partners? What advice do you have for fellow entrepreneurs about building and leading teams?
ME: My advice is that it's impossible to build a company (or anything great) on your own. Build a strong network of people you can lean on because there will be many ups and downs. I'm lucky to have such a great partner with Josh who can both support me and challenge me.
Many entrepreneurs continue to perfect their daily routines to support their work and greater vision; would you mind sharing your morning routine or a regular ritual that grounds your work each day? How has it changed in recent months?
ME: I start each day at the office by making a list of things I'm going to do that day and turn off all notifications on my Slack, email, and phone. There are so many things and people vying for our attention that if we're not proactive about what we want to get done ourselves, we'll spend more time than we realize simply responding to others.
What keeps you motivated during this time?
ME: It's seeing the impact on the members we serve. Tempo has a community on Facebook where I get to login and see first-hand our product is making a difference in people's lives. That's one of the most rewarding things about health and wellness is seeing how it positively changes people for the better.
What kind of an entrepreneur do you want to be known as, as in, what do you want your
legacy to be?
ME: One that makes a difference in the community around me and uses innovation to make positive change.
What is a quote or some words of wisdom that help get you through the tough days?
ME: Some of the best advice I received is that "anything is possible as long as you push through." Entrepreneurship takes grit and perseverance. To power through, you need the inherent belief that the work that you're doing will make a positive change.
Who are the people who have mentored or influenced you in your life or career? How has
their influence changed the trajectory of your entrepreneurial journey?
ME: There are so many people that have influenced my life but it first started with my family. They've been supportive of me my whole life and believed that I could do anything.
---
Do you have someone you'd like to nominate to be profiled in our Faces of Entrepreneurship series? Please let us know by emailing media@thecenter.nasdaq.org.