Ijemma Onwuzulike is the Founder and CEO of Nkọwa okwu, an Igbo language and culture learning platform that emphasizes building Igbo-centric technology and learning material that's authentic and accessible to all. She started this company during the pandemic after identifying there was a massive gap in online Igbo education that could be filled by leveraging technology. Now the community that she started more than a year ago has grown to include more than 100 volunteer members and expanded into offering multiple services and products. They maintain the largest open-to-contributions, audio-supported, Igbo-English dictionary that hosts thousands of Igbo words and example Igbo sentences. Nkọwa okwu also offers Nkọwa okwu Learning which is their Igbo language and culture learning platform to allow their users to learn the language at a fair price. Ijemma is also a software engineer at Squarespace.
What does "entrepreneurship" mean to you?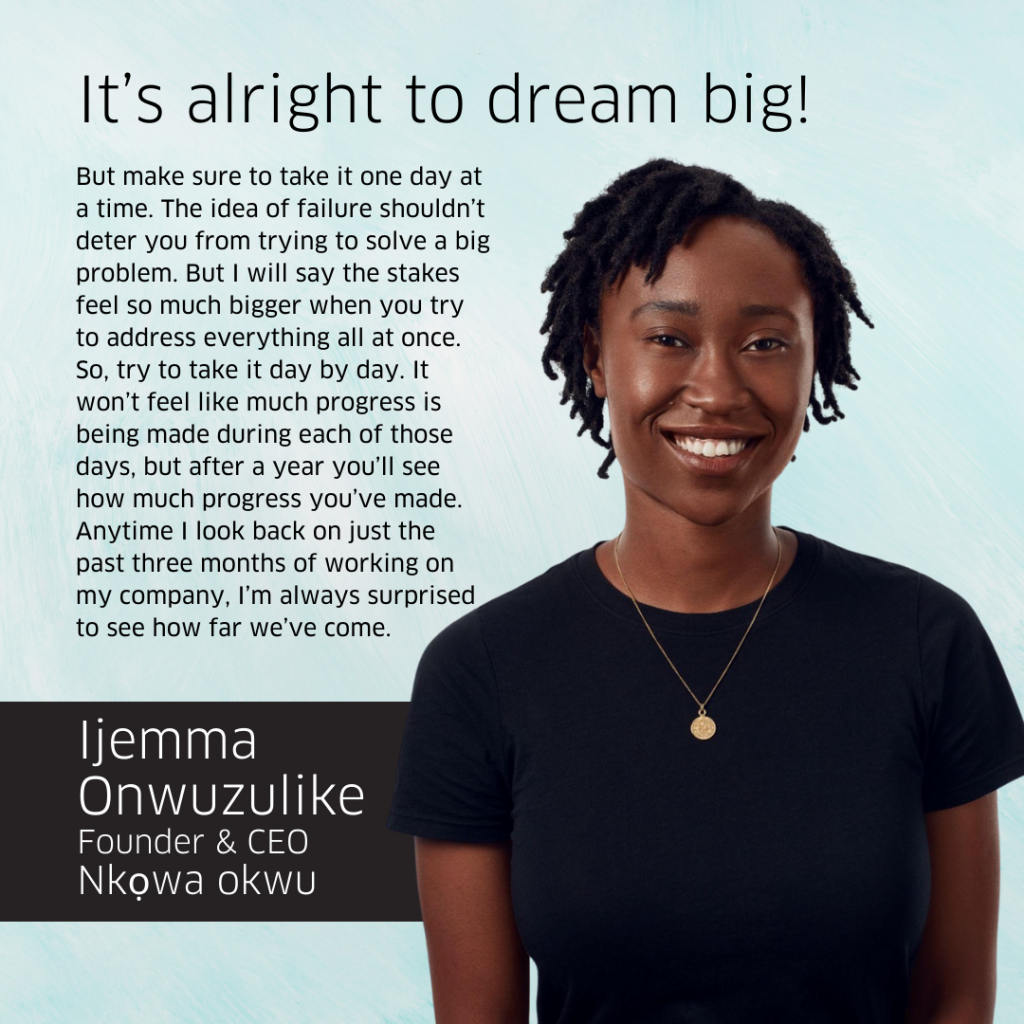 Ijemma Onwuzulike: Entrepreneurship is believing in a dream or idea and building systems or processes to bring that idea to life.
Tell us about your first experience with entrepreneurship.
IO: My first experience with entrepreneurship was in college. I was working in an on-campus, student-led, digital agency called the DALI Lab at Dartmouth College. A few of the seniors in the agency started a start-up called Pulse which targeted its survey-taking product toward our college campus. I was a sophomore working as a software engineer on the product. For the year that I was on the team, the platform gained an impressive amount of traction: a total of thousands of users. Given how fast their product was growing, the founders decided to apply for Y Combinator to expand their idea to campuses across the nation and got accepted. That was a formative experience because I got to see the inner workings of an agile product team trying to deliver a lot of value in a short amount of time.
What is your company's origin story?
IO: Growing up in America as an Igbo-American, it was a challenge to feel completely connected to my culture. When my parents immigrated to America, they wanted to make sure that my sisters and I could assimilate to American culture as easily as possible. This meant that we wouldn't learn Igbo and only focused on English. As a child, I didn't think too much of this decision but as I got older and I met other Igbo-Americans, I realized that this was a much larger pattern. When I went to college, I studied Computer Science and Japanese Language and Literature. It was during these four years that I realized how approachable learning a language can be, especially with the assistance of technology with services like Google Translate or Joshi.org. But when it came to applying a technical solution to learning Igbo, I didn't know what form it would take, and I didn't have much time because of my busy college schedule. After graduating from school, I moved to New York City to start working as a software engineer. It was during this time in my life, for the first time in my life, that I didn't have grades or classes determining my goals. Naturally, I started to think about how I wanted to spend my newfound free time. I went through the motions of creating projects only for them to end up in the project graveyard. I just felt like I wasn't spending my time on things that I really cared about.
It wasn't until the pandemic started in 2020 when I moved back to California to stay with my family that the initial version of my company idea hit.
I thought why not build a simple Igbo dictionary API that can serve Igbo words to requesters of the data. I thought it was a simple idea so it would have a simple implementation. But I almost instantly hit a brick wall: it was incredibly difficult to find free or accessible Igbo materials that were robust and high quality to support a project like this. A lot of content was either sparse, included typos, or wasn't accessible due to the prices. This was surprising given there are approximately 30 million Igbo people around the world, surely there should be more openly available Igbo content online.
But as I continued to dig deeper, I realized this was a much larger problem: due to the low rate of intergenerational transfer of the language, Igbo is considered threatened, and could possibly become extinct, according to UNESCO.
I thought to myself, "well since this is is starting to bubble into a massive problem, let me start small." and purely focused on the API. Even though I liked the API's concept and project scope, I needed to validate whether or not it's provided the value that I thought it was. So I showed it to my most constructive critics: my parents. I remember showing my parents the project, all nervous thinking they weren't going to be all that impressed, but they were even more excited about the idea than I was. After seeing the project for the first time, they were giving me ideas of how the project can expand into something way larger. They've been my earliest and most active supporters to this day.
From there, the project grew into Nkọwa okwu which is the official dictionary app built on top of the Igbo API, and then later in 2021 Nkọwa okwu officially became a company.
What do you wish you knew when you started? Is there anything you would do differently?
IO: Being a software engineer was a blessing and a curse. A blessing because I was empowered to create any product that I wanted to create – I didn't have to pay an engineer or designer to bring my ideas to life. But it was also a curse because I had the tendency to underestimate what actually goes into establishing a series of valuable products, maintaining a growing community of volunteers, and even a for-profit company.
I had to be realistic early on with my bandwidth and my abilities. Sure, maybe I could write a monthly newsletter or create social media posts, but should I? Understanding what I'm good at and identifying opportunities to delegate work to teammates and volunteers who are more skilled than me and who are excited to contribute to our projects were both skills I had to intentionally develop to keep our momentum going.
What does "success" look like for you? We'd love to hear your biggest, boldest dream? What do you think will help you achieve it?
IO: Success to me is finally establishing a free Igbo-English dictionary that accurately catalogs all Igbo words along with their dialectal variations, audio pronunciations, Nsịbịdị, and more informative word metadata. I want us to leverage the Igbo API along with open and equitable data collection tactics to build accurate speech-to-text and text-to-speech models for Igbo. Additionally, I want Nkọwa okwu to be used in virtually every Nigerian school and university to serve as either a free or cost-efficient foundational resource for teach Igbo across the nation. I've got a lot of dreams for this company, but by the end of the day I just want to build products for Igbos like me who have a growing urge to connect with their culture through the language.
What is your superpower as an entrepreneur? What is your proudest and darkest moment so far? Share a key high and a key low from your journey if you can.
IO: Superpower? I guess believing in the process. If you stick with a routine long enough, it'll become another habit that's harder to break than to just keep going with it. I apply that to a lot of things in my life, especially my company. Spending a bit of time every day doing similar tasks of assigning work, writing proposals, engineering, reviewing copy, etc. makes those takes easier over time. My dependency on my calendar to keep up with all my meetings and tasks has grown substantially over the past few years. It's gotten to the point that if the event doesn't exist in the calendar, then the event doesn't exist at all.
The proudest moment in my journey would have to be launching Nkọwa okwu. This was the very first project that was completely collaborative through the help of volunteers. There were product designers, software engineers, voice recorders, and translators, all coming together to put this project into existence. This is when I finally realized that there are so many people that we haven't even reached yet that would love to contribute to expanding Igbo within the digital space.
The lowest moment was realizing how financially straining a project like this can be in the long term with poor financial planning. I had to reorganize my finances to figure out how to keep the company afloat, which was definitely a stressful time – at the time, anything money-related had me sweating.
What are your personal driving principles, and your top values?
IO: Authenticity, respect, and patience
Authenticity
When I first started my project, I realized that even though I'm 100% Igbo, I don't have much authority or opinion on the Igbo language because I don't speak it. This drove me to emphasize being authentic to who I am as an American born Igbo who doesn't speak the language fluently, and to my community consisting of a lot of Igbo speakers by empowering my volunteers and teammates to voice their opinions on how the language should be supported by our work. Listening to the community before making any decisions has led to important aspects of our various products that greatly support our community. For example, we wanted to emphasize the robustness of the Igbo language by supporting the ability to catalog multiple dialectal and spelling variations. For our Igbo courses, we wanted to not only teach the language but also the culture for a more comprehensive learning experience. We wanted to make our services more accessible, so we created a Chrome extension that allows users to search Igbo words and hear their pronunciations as they browse. I wouldn't have known to do these things without listening to the community. Igbo education has been historically overlooked by its own nation's government for too long. That's why Nkọwa okwu focuses on building quality tools, products, and resources that can ensure that we're supporting our own community in an authentic way.
Accessibility and Quality
One of my biggest personal gripes with learning Igbo online was that it wasn't completely accessible. Either Igbo learning materials were behind a wildly expensive paywall or the quality of free material wasn't good: it was too short, there were grammatical errors and typos, the material was generally confusing, etc. That's why we have an emphasis on creating the highest quality services for the Igbo language at prices that don't break the bank. So the Igbo dictionary app is completely free, and will never be monetized, while Nkọwa okwu Learning, our Igbo language, and culture learning platform, will always offer a variety of absolutely free courses that students can take. Additionally, I love the idea of a community owning a product. Sharing that sense of ownership allows more people to be vocal about how to improve that product. That's why we have a volunteer network that allows people to contribute however they want and be able to say they contributed to an important mission.
Patience and Respect
When I first started to learn about computer science and software engineering, I felt like I didn't know anything, and that all my peers were learning the material so much faster than me. On top of that, I had a number of times when people disregarded me because I wasn't a "strong enough" engineer. That feeling of inadequacy absolutely sucked. Now that I'm a lot more experienced in engineering, I realized two things:
Those people who were poking fun or made me feel less than were incredibly insecure about their own skills, and
Moving forward, I have to make sure that I can foster a welcoming environment for all our community volunteers so they feel like they can ask questions or make mistakes without getting judged.
There are a lot of people, especially women of color, who get deterred from getting into tech because of the pushback that they get from gatekeepers. Now that I'm getting more comfortable in my career, I make it a point to help others around me, especially those who look like me, to achieve our own goals as a community.
What's it like to work alone or with your partners?
IO: We're all working remotely! The grand majority of the team is working in Nigeria – which is no small feat. Due to the inconsistent electricity that affects parts of the nation, many of my teammates plan ahead of time to make sure that they can work with or without power. This is something that my teammates based in America don't have to think about at all. Communication can sometimes be delayed for a myriad of reasons. I've learned to prioritize immediate tasks so that we can make the most out of the few hours in the day when we're all able to work together at the same time. We also have weekly meetings to sync up on work, but most of our communication is done via Slack.
Do you have a mentor? Tell us about what makes them valuable to you and your business?
IO: I don't have one person with the label of a "mentor". I generally surround myself with friends, family, and co-workers who encourage me to continue on the path that I'm taking. Those people are extremely experienced in their own personal journeys – some very similar to my own journey and others not so much. But there's a huge benefit of being surrounded by so many different types of people with interesting backgrounds who want to see me succeed because they all have their own set of advice they can share with me that, in turn, allows me to be better in everything I do.
Some of my friends have backgrounds in working within start-ups as software engineers or product managers and are able to give advice on how to manage and work within small, agile teams that are trying to generate value in a short period of time with limited funds. My other friends and family members have a background in medicine and have a different approach to how they spend their free time and make sure that they find time to be near people that they care about and not just work 24/7. My roommates are creatives who want to get into the TV and movie industry, and their dedication to their craft and understanding that it's going to take a long time to get to where they're trying to go is a constant reminder for me that my journey is a marathon and not a sprint. Other people in my life are starting to go back to school to get an MBA or a graduate degree, and they provide insight into the importance of getting an education or expanding one's network outside of the private sector.
What I'm saying is that mentorship, to me, is following my friends and family in their journeys and giving and receiving advice as we all explore our own paths.
What role does mentorship play in your world (as a mentor or mentee)?
IO: Personally, I find the "traditional" mentor-mentee dynamic to be a little stuffy and limiting. I have mentored engineers in the past, and I plan to continue doing so in the future, but I always approach the relationship to be more casual and less formal than what I think of as a typical mentor-mentee dynamic. I'm used to forming friendships with a variety of people and learning how to value their experiences and give and take advice. So far this approach has positively affected my world.
Many entrepreneurs continue to perfect their daily routines to support their work and greater vision; would you mind sharing your morning routine or a regular ritual that grounds your work each day?
IO: I'm the most productive in the early morning since there aren't too many distractions compared to later in the morning. I wake up at 6:30 am, and I just lay in bed to think about my day for 30 minutes – this is a strict no screen time, where I can do anything but look at my phone, laptop, TV, etc. After that, I pray to get the day started. Then I brush my teeth and wash my face. For the next few hours, I start to work on tasks that I need to get done for the day or week, and if I have scheduled meetings I take those calls. If I have time, I'll go to the gym to work out. And after all of that, I start my 9-5, which right now is more like 10-6.
What are you reading or have read?
IO: Usually, I spend most of my time either reading technical documentation, emails, proposals, etc., so I don't prioritize time to read many books. The last engineering book that I had time to read is Clean Code by Bob Martin. But usually, I read manga to allow myself to relax and just let my mind wander. Currently, I'm reading a manga called Bleach by Tite Kubo. Definitely a big jump from reading about best practices for software engineering to comics, but that's usually what I find myself reading.
Where do you go for inspiration?
IO: I get a lot of inspiration from the people who are around me. Don't get me wrong, it's fun to go on Twitter or Dribbble to see what other people are talking about or creating, but that feels very one-directional. I can't really interact that much with what I'm seeing on my screen: usually I find it difficult to catch the attention of a popular creative to have a conversation about their process. But with my friends who live in the same city as me, I find a lot of inspiration from them since I can have those conversations and see what they're really thinking. Just seeing them go through life and adapt to their surroundings is a huge source of inspiration for me in so many different ways.
Do you have a favorite quote, mantra, or words of wisdom to get through the tough days?
IO: "There's always tomorrow." I usually catch myself overthinking what I need to complete in the next 24 hours. But whenever I can catch a moment for myself, I remind myself there's always tomorrow when I can complete my work.
What is a problem that keeps you up at night?
IO: No particular, overarching problem that keeps me up at night. Rather, just a series of smaller to-dos or tasks that I need to complete. Sometimes if I realize that I have a lot of smaller tasks to complete, I do end up in obsession mode where I stay up late planning the next couple of days, and prioritizing work. Whenever I get a break from planning, I try to remind myself that "there's always tomorrow" and if what I'm thinking about at the moment in time is so important, I should have no issue remembering it first thing in the morning.
How do you think about helping others through your work?
IO: My start-up started because I was focusing on a specific issue that I was personally facing. And as my work started to grow and reach more people, I realized there are so many other people who resonate with the same problem statement and want to see the company succeed. So, I always try to keep in mind the idea of building technology that makes learning Igbo online more approachable. Additionally, since I'm learning a lot from being a professional software engineer, I remind my community members to reach out to me if they have any questions about tech. I don't want to be sitting on valuable career information that could benefit them in their own careers.
What advice do you have for fellow (and aspiring) entrepreneurs building and leading teams?
IO: It's alright to dream big! But make sure to take it one day at a time. The idea of failure shouldn't deter you from trying to solve a big problem. But I will say the stakes feel so much bigger when you try to address everything all at once. So, try to take it day by day. It won't feel like much progress is being made during each of those days, but after a year you'll see how much progress you've made. Anytime I look back on just the past three months of working on my company, I'm always surprised to see how far we've come.
What kind of an entrepreneur do you want to be known as – as in, what do you want your legacy to be?
IO: An Igbo-American woman who, by listening to her community, uplifting her volunteers, and focusing on the small details that make for memorable products and experiences, made it easier for future Igbo generations to learn their own language.
---
Do you have someone you'd like to nominate to be profiled in our Faces of Entrepreneurship series? Please let us know by emailing media@thecenter.nasdaq.org or submit your nomination using this form.