Dre Hayes, co-founder of The Foundation, began his fashion career in a specialty retail chain in Virginia. He quickly rose through the ranks to become a buyer and assistant manager, all before graduating from high school. During his college years, Dre was a buyer for a twenty-five-store chain while also managing a top producing store. After graduating from the Old Dominion University, Dre quickly moved up the ranks of fashion brands. In 2005, Dre relocated to New York to co-launch The Museum Group, a premier sales agency, which quickly established itself by launching several genre-defining pioneering brands. After the Museum Group moved into a shared space with The Vanguard Group, the two groups officially merged into The Foundation in 2009. The Foundation became a globally recognized showroom known for having some of the most sought-after brands and has evolved from a sales showroom to a fully vertical operation focused on proprietary brand development, licensing, and distribution. In addition to being Co-Founder of The Foundation, Dre Hayes is the company's CEO as well as the President of Kappa USA, the largest brand in its portfolio.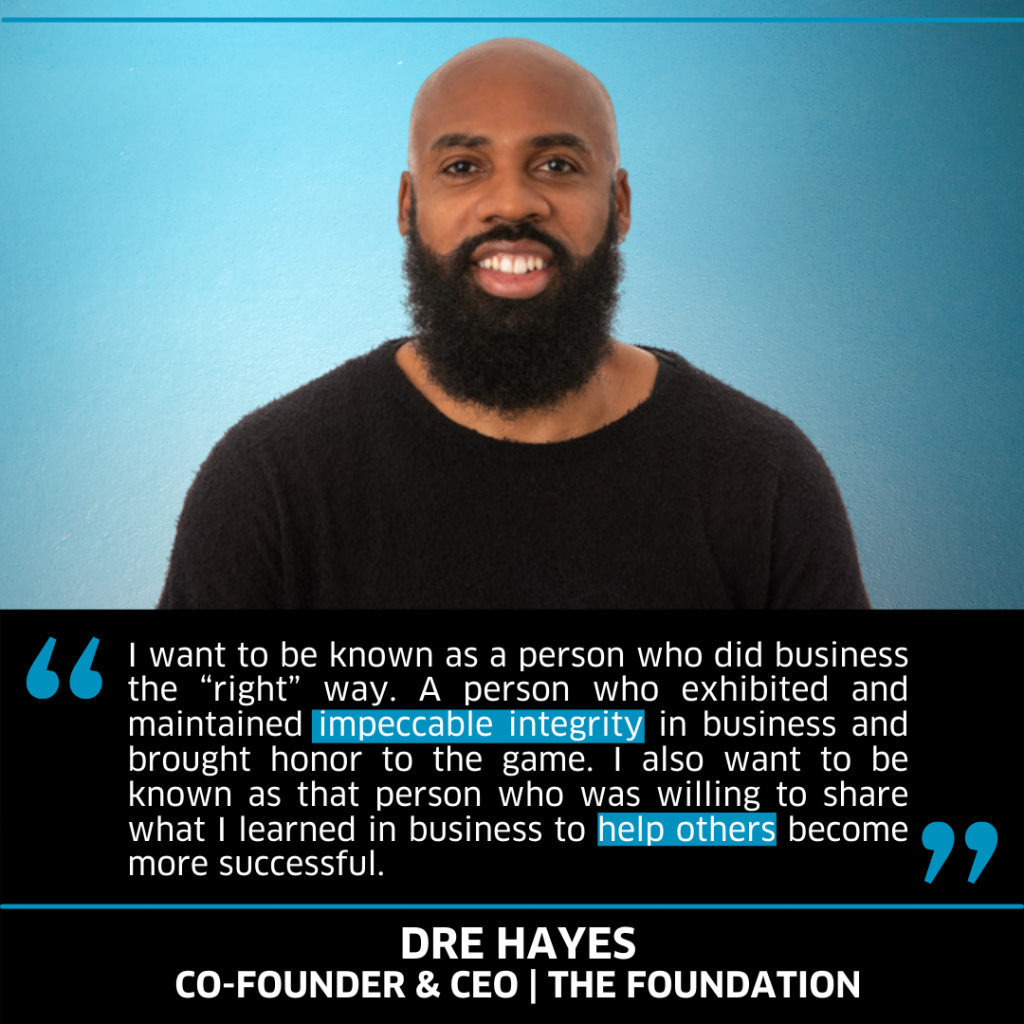 What does "entrepreneurship" mean to you?
Dre Hayes: It means FREEDOM. As an entrepreneur, you have a level of independence that only someone who owns their own business can understand or relate to. You are truly in control of your own destiny. There is an inherent amount of risk that comes with this FREEDOM so it is not for the faint of heart. Scared money doesn't make money. I believe in betting on myself. That is what a true entrepreneur does every day.
How did your company come to be?
DH: This is a funny, but true story. I am originally from Virginia Beach, Virginia. The music artist/ producer, Pharrell Williams, is from Virginia Beach as well. In 2003, he and Nigo, formerly of A Bathing Ape, launched the streetwear brand Billionaire Boys Club and Ice Cream. I was 26 years old at the time but had been in the fashion industry since I was 17, first as a buyer and a store manager at retail and then as an accomplished and respected Midwest/Mid Atlantic regional sales rep for a notable brand post my college graduation. I had a reputation as being one of the better salesmen in the market. Naturally being from Virginia Beach and having a strong reputation, I thought I should be the one selling BBC and Ice Cream. Obviously, I thought very highly of myself, but now know I was naive. The world was different then. We didn't have the internet and social media making the world so small. If you were not in New York, Los Angeles, Milan, Paris, London, or Tokyo, you really were not on the big stage in fashion.
Although I had a good reputation, I wasn't known where it mattered. That was the moment that I decided to relocate from Virginia Beach to New York and start my own sales agency which would later become The Foundation. I wanted to make sure that I had built a strong enough reputation in the game globally so that the next time a brand like BBC/Ice Cream came along, my company would be the one chosen to represent it. The irony is that 16 years after leaving Virginia Beach because of BBC/Ice Cream, we not only represent the brand from a sales standpoint but are also business partners with the entire U.S. business.
How has your business changed in response to the COVID-19 pandemic?
DH: I can tell you about two things that immediately come to mind. Although we had already operated 16 websites for the brands in our portfolio and had strong DTC online sales for some of those brands, our online sales increased exponentially during the pandemic, especially at the beginning of the brick-and-mortar shutdown. As a result, we had to invest in more infrastructure on the operations side as well as overhaul our ECOMM customer service to keep up with the new demand and continue to operate well. As a result, we have a much stronger ECOMM dept. and are better prepared for the future of a world where DTC ECOMM sales are more and more important to a company's success.
Secondly, we had to deal with the pandemic's impact on our respective brands' global businesses particularly in Europe and Asia. As much noise as there has been about the global economy suffering, the U.S. economy from a retail perspective has fared much better during the pandemic than Europe and Asia. Online retail never shut down in the U.S., while it shut down for different periods in various countries in Europe and Asia. The rate of the U.S. reopening of brick-and-mortar retail moved quicker and stayed open while there were multiple shutdowns in many markets abroad. Our strongest brands in The Foundation brand portfolio are brands where a majority of our business (90%+) is domestic. We re-strategize on some of our brands who were heavily dependent on international wholesale to increase the domestic account base and sales while reducing the amount of international business to make up for the global uncertainty and loss.
What is your proudest and darkest moment so far? Share a key high and a key low from your journey if you can.
DH: My proudest moment is how my partners and I were able to handle the pandemic in regard to our staff. As business owners, we always believe we are the last ones to eat as we must take care of everyone else first. Our focus is to take care of our employees who we consider to be our family. When the pandemic started, me and my three partners: Ari, Antwain, and Daniel, all huddled together and made keeping our team employed and together our main priority. We ran some different financial models and created a path that would allow us to achieve this goal. I am proud to say that we did not lay off one person, furlough anyone, or even force anyone to take a pay cut during the entire shutdown. I know this went a long way in showing our employees that we care about them and their well-being. We know it was a blessing that we're in the position to be able to do it, but we also know it was the commitment and vision to keeping our team together that got it done.
The lowest moment was in the Spring of 2017 when we were set to ship our first season of Kappa as the U.S. licensee. This was the beginning of us being completely on our own and being responsible for all of the finance as well as the operations of our brands as we had previously always had a financial/logistics partner who bore all of that responsibility. In Spring 2017, we had a third-party logistics partner who was terrible and we had our Kappa product delivering 30-60 days late from the manufacturers. We had great sales and tons of open orders with the best accounts in the U.S., but everything that could go wrong was happening. We were 100% self-financed with ALL of our money tied up in the inventory that was late and we couldn't ship because of our incompetent logistics company. I am fearless and rarely worry when it comes to business, but I legitimately was worried at that moment. I can honestly say that I felt like we were on the cusp of going out of business, but we survived it and the rest is history.
How is your company changing the landscape?
DH: When we came into the game, our goal was to do it differently than it had ever been done before. We were very ambitious. From the time we were just sales agents/consultants, we wanted to be the most relevant showroom and maintain that relevance. This also meant being able to evolve and stay ahead of the major changes in the market. We evolved from men's apparel to women's apparel, footwear, accessories, lifestyle tech & home goods, as well as food & beverage. Being relevant meant being able to do business with the broadest range of the best retailers possible, but still be cool with an edge. We are able to do business with everyone from Nordstrom to Zumiez to Apple to Target to College bookstores and everything in between. We always kept a diverse brand portfolio of sales agents and once we became the version of The Foundation we are today who owns, licenses, and distributes brands, we continued with our strategy of having diverse brands so we always remain relevant.
What do you wish you knew when you started? Is there anything you would do differently?
DH: I don't know if there is one thing now in particular that I wish I knew when I started. I am really happy with my journey in business and how it has turned out. The experiences I've had and learned from along the way have gotten me to where I am today. I am grateful for this specific journey. Although I have been in this business almost three decades since I was a teen, I am still a young man and feel like these next 10 years are going to be the best ones yet.
What advice/credo do you live by as you grow the business / what is your professional and personal mission statement?
DH: I am known for saying these quotes listed below and truly live by them. I apply all of them to the way I run and grow my business.
"Work Hard, Play Hard"
"Sleep When You Die"
"As soon as you are irrelevant, you are out of business"
"Integrity is Everything"
"Scared Money, Don't Make Money"
"Live, Off, Experience"
"Everybody Can't be Kobe"
Where do you find inspiration when faced with challenges?
DH: I find inspiration from everywhere, but I am naturally a very driven person so being challenged doesn't phase me. My drive is matched by fearlessness when it comes to my business. I literally do not worry about anything. I always think of worrying as negative energy. I just bet on myself and my partners. I am known as the glass-half-full guy or the eternal optimist. I just have that much confidence that we will be fine no matter what.
What does "success" look like for you? What do you think will help you achieve it?
DH: If I step back, I can say that I am already successful as I have a strongly growing company known for being best in class, having integrity, and taking care of its employees. We have been able to do it our way and be independent of corporate America enough to call most of our own shots. My brother Vance, our COO, always calls me a "goal post pusher" because he says I am always pushing the goal post back every time we achieve anything. I am the "MORE" guy. I am just driven to keep pushing further and further.
Has personal or professional "success" changed for you since the COVID-19 pandemic?
DH: I have not left Los Angeles for the last 13 months. I am a guy who is usually on a plane at least two times a month every month traveling all over the world for business. I have not sat in one place this long since I was in high school. This has been a big change for me. I am married and have three boys who are 20 years old, 16 years old, and 4 years old. This is the first time I have been home this much during my older children's lives and I have enjoyed it. I have gotten to spend this valuable year of seeing my 4-year-old every day which would have never happened if not for the pandemic. Although the world has been burning, I am thankful that something finally made me slow down to enjoy the most important things in my life.
What's it like to work alone or with your partners? What advice do you have for fellow entrepreneurs about building and leading teams?
DH: Partnerships are like marriages. Just like you can't be married to just anyone, you can't be partners with just anyone. I have three other equal business partners in The Foundation; Antwain, Ari, and Daniel. We met through the business. We had so much mutual respect and admiration for each other professionally when we were all independent reps that we decided to become partners and build The Foundation together. It is our mutual respect for one another that makes the partnership work so well. Although we may have disagreements as partners from time to time, I am proud to say there has never been anything remotely major in 15 years. These guys are my Brothers.
My best advice for building and leading a team is to lead by example. You need to be someone your team can believe in and follow. You are their boss, mentor, coach, and guidance counselor all wrapped up in one if you are doing the job the way I believe it should be done. Your team should be ready to go to war with you. If you are able to get respect and proper motivation out of your people then you can accomplish anything.
Many entrepreneurs continue to perfect their daily routines to support their work and greater vision; would you mind sharing your morning routine or a regular ritual that grounds your work each day? How has it changed in recent months?
DH: I have developed a much more consistent routine over the past year. Most mornings I wake up at 6 am so I can either be in the gym or at Runyon Canyon for a hike by 7 am. This year I developed the goal to workout every morning which I have been very consistent with. I figure if my goal is to work out every day, then when I start traveling again, it will be easier to maintain some semblance of a routine as we all know traveling throws off most people's workout routines. I make sure I am back home in the morning after my workout before my youngest goes to school so I can see him off. I usually get to the office around 9:30-10:30 am and leave the office between 8 pm and 9 pm. I need that time after work each night to decompress so I do my best not to work at all when I get home. I like to watch the news, basketball, or some TV series on DVR.
What keeps you motivated during this time?
DH: Some people see the world is burning . I see it as an opportunity. I started my business just before the Great Recession and came out stronger after. My company is in a much stronger position coming out of this pandemic than 12 years ago coming out of the Great Recession so I am excited. We are in a big global reset moment and I have been here before so I know what it looks like. History has shown that in this kind of time after catastrophic global financial events, there is always a tremendous opportunity for success if you can get yourself in the right position and take advantage of the opportunities before you.
Honestly, my drive keeps me motivated. I still believe the best is yet to come and I must keep pushing to get there. I always say that "Everyone can't be Kobe". This is a basketball analogy that I believe in. I am basically saying that everyone can't take that last shot. Some people want it, but don't have the ability while others have the ability, but are too scared to take it. I have the ability and I want to be the one to take the shot. That is how I live my life.
What kind of an entrepreneur do you want to be known as, as in, what do you want your legacy to be?
DH: I want to be known as a person who did business the "right" way. A person who exhibited and maintained impeccable integrity in business and brought honor to the game. I also want to be known as that person who was willing to share what I learned in business to help others become more successful.
What is a quote or some words of wisdom that help get you through the tough days?
DH: I have the same quotes as before, but I am adding two more:
"Live, Off, Experience"
"More Money, Less Problems"
Have you experienced mentorship in your career? Do you feel it was easily available to you?
DH: My three mentors gave me my first job in wholesale in this business. They are Ralph Reynolds, Mike Shocket, and George Metzger of the RP55 Group, an apparel company based out of Virginia Beach, VA. After working for them as an employee from 1999-2005, I left to start my own business in 2006. They have always supported and been available to me. I have gone on to work together as well as own several brands together as partners even to this day.
Who are the people who have mentored or influenced you in your life or career? How has their influence changed the trajectory of your entrepreneurial journey?
DH: From my three mentors, Ralph Reynolds, Mike Shocket, and George Metzger, I can say I learned enough about this business to give me The Foundation, no pun intended, to go and do it myself.
I would say that my mother is the biggest influence I had.
My Mom has an unbelievable work ethic and I can tell you that the apple doesn't fall far from the tree. My Mom instilled a good work ethic in myself and my Brother, Vance from an early age, who happens to be the COO of The Foundation. He is like our 5th partner in The Foundation. Without him running operations, we wouldn't be where we are.
Then there is my wife, Sirena, who has held me down since day one. I had my first child at 23 years old so I was a very young parent. My wife believed in me and gave me the support and freedom to pursue my dreams as an entrepreneur. All entrepreneurs know how tough owning your own business can be. Having good support around you goes a long way.
Finally, my three business partners; Antwain, Ari, and Daniel. Antwain actually hired me at a retail store in the mall as my first job in fashion. He has been with me on this whole entire journey which includes the 11 years before The Foundation. Daniel helped me get started in New York after my move. He helped me find the office that would one day become all of our offices when we became business partners. Ari along with Antwain are the voices of reason who slow me down a little to think about things as I only have one speed and that is "GO".
---
Do you have someone you'd like to nominate to be profiled in our Faces of Entrepreneurship series? Please let us know by emailing media@thecenter.nasdaq.org.