Ashley Olafsen is a 4x founder currently building The Wildflower Company, a planner company and wellness community centered around value-driven goal setting and belonging. With a physical planner and community guided by accountability, The Wildflower Company answers the question 'What happens when you design your dream life with friends by your side'? She is also the Assistant Director of Women's Entrepreneurship at Northeastern University in Boston.
What does "entrepreneurship" mean to you?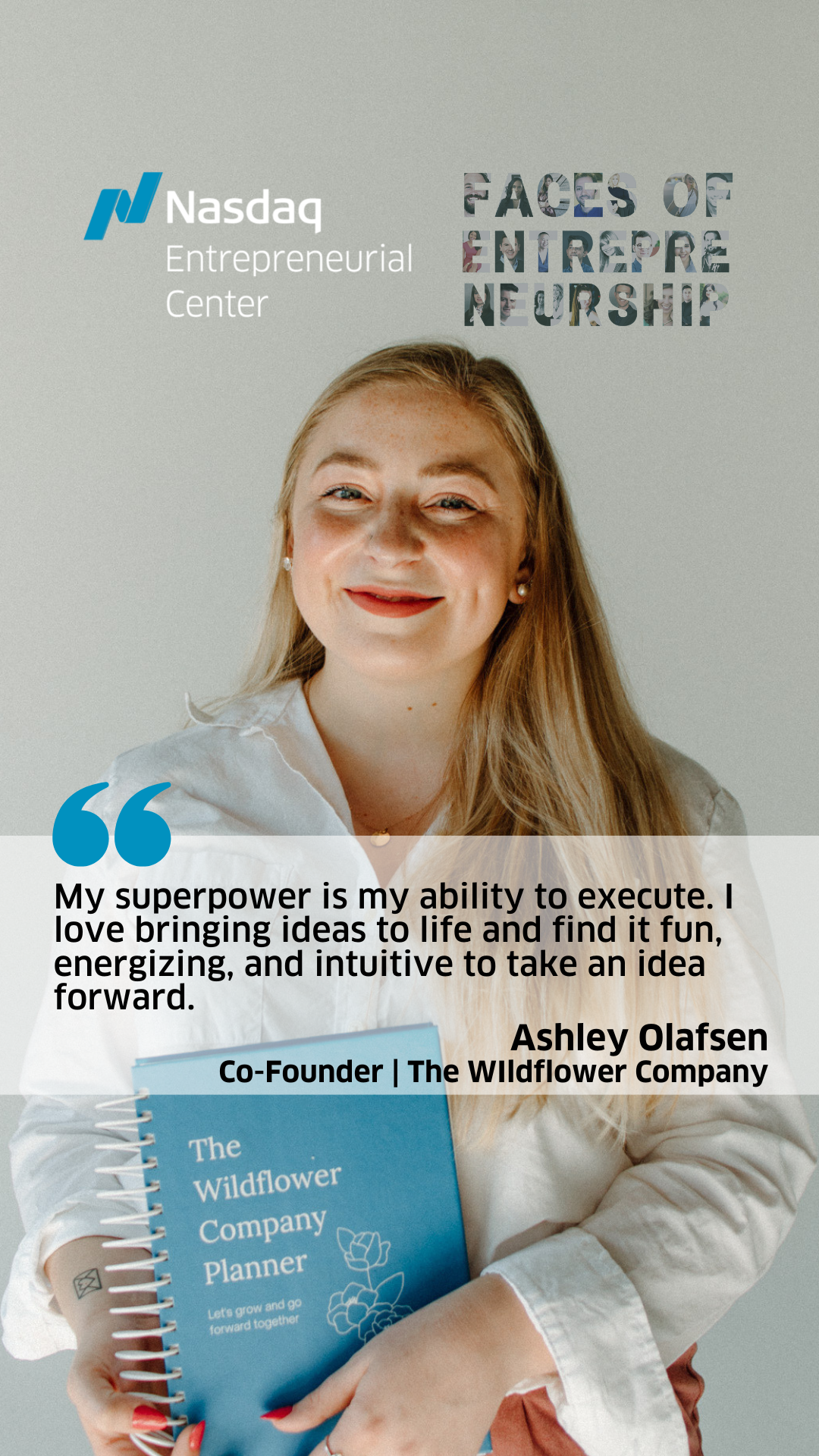 Ashley Olafsen: Entrepreneurship is how I express myself creatively. I love exploring all that I can be and all that I can do through the process of building a business. It's a genuinely fun way to push my limits and test out what I'm capable of.
Tell us about your first experience with entrepreneurship.
AO: I unintentionally 'got into' entrepreneurship. Truthfully, I saw a problem that needed to be solved, and no one solving it, so I decided to try and do something. As a teenager, everyone I knew was struggling with self-esteem, body image, and mental health. This devastated me because I thought my friends were incredible, beautiful, and worthy of loving themselves. So, I decided to team up with some of my friends and create a workshop for 8th grade girls where we could talk openly and honestly about what we were navigating as young women together. I intended on giving one workshop – but that workshop evolved into a business called MOVE that I ended up running for eight years. Today, I've started four companies, but MOVE is the one I am most proud of. Through MOVE, I ran six-week-long summer programs and gave hundreds of workshops, consequently impacting thousands of young women's self-esteem. I poured so much love, energy, and vulnerability into MOVE and will forever be proud of the impact we had.
What is your company's origin story? What is the biggest reason you started your business? What did those early days look like and teach you?
AO: I have always been a planner lover fascinated by planner brands. I always thought I'd start my own planner company someday, and I decided someday was today when my best friend Michaella Estevez was interested in building out the company alongside me. Micha and I had spent the past two years in an 'Accountability Group' with our other best friends, where we met monthly to share our goals + design a more intentional life. We felt like our community-led accountability groups would be the perfect addition to an intentionality-focused planner product…. And thus, The Wildflower Company was born. Our company is inspired by wildflowers – wildflowers are resilient and can grow almost anywhere, but they need sunshine and enough nutrients to stand strong. We believe people are the same way. We are resilient but need a bit of support. Our planner and resources are designed to support beautiful, resilient wildflowers. The early days were initially exciting, but ultimately a lot of work with not much to show for it. We launched our brand before we had our product, and so we went a long time developing the product behind the scenes. And those were the early days!
What do you wish you knew when you started? Is there anything you would do differently?
AO: Candidly, I feel so proud of Michaella and me. There isn't anything I would change about the way we've grown this business… it's all been heartfelt and aligned 🙂
What does "success" look like for you? We'd love to hear your biggest, boldest dream. What do you think will help you achieve it?
AO: My biggest dream with The Wildflower Company would be to sell planners on a consistent basis and make meaningful revenue. Michaella and I would love to get to a point where we can sell planners in stores like Urban Outfitters, Anthropologie, or even Target. Someday!!
What is your superpower as an entrepreneur?
AO: My superpower is my ability to execute. I love bringing ideas to life and find it fun, energizing, and intuitive to take an idea forward.
What is your proudest and darkest moment so far? Share a key high and a key low from your journey if you can.
AO: My proudest moment was recent: A month ago, a mother messaged me on Facebook thanking me for the work I did with MOVE. She shared that her daughter did not struggle with body image because of the MOVE summer program she had attended, years prior. This is the best thing I could have possibly heard.
A recent challenge on my entrepreneurial journey has been a lack of funding. We are generating revenue for The Wildflower Company, but we aren't taking a profit and are re-investing all of the money we make back into the business. It's enough for us to pay our marketing subscriptions and the everyday expenses of running a business, but it is a bit stressful considering how we're going to pay for our second production line.
What are your personal driving principles, your top values?
AO: My top values include: kindness, fun, accomplishment, peace, and balance. My favorite quality in the people I love is their kindness; how we treat others means everything to me. I also value fun – I care a lot about comfort, pleasure, and having a good time whenever possible. Accomplishment also means a lot to me – I LOVE productivity and the feeling I get when I cross something off my to-do list. In the past few years, I've learned how much I prioritize my peace and I've also learned how much I value the ebbs and flows of balance. These values shape my life, my relationships, and how I spend my time.
How have your personal principles and values shaped your company's values and principles? Give us some examples.
AO: My personal values are my company's values; it is all very interconnected. At The Wildflower Company, our core values are community, authenticity, and intentionality. These are extremely important to me personally and determine how we engage with our community and what we devote our time to.
What's it like to work alone or with your partners?
AO: I work alongside my best friend & Co-Founder Michaella. It is an absolute dream to work with someone I love and care about so much. It's fun to obsess over the company together, celebrate the successes together, and support each other during moments of difficulty. I can't imagine a better Co-Founder!!
Do you have a mentor? Tell us about what makes them valuable to you and your business.
AO: My mentor is my boss, Betsy Ludwig. During the day, I work as an Assistant Director of Women's Entrepreneurship at Northeastern University. Betsy is the Executive Director of Women's Entrepreneurship and has transformed the landscape of the entrepreneurial ecosystem at Northeastern. I am beyond moved and impressed by her commitment to uplifting women and so grateful that I get to work alongside someone as smart, passionate, and capable as she.
What role does mentorship play in your world (as a mentor or mentee)?
AO: Mentorship is something that I have craved for a long time professionally. I feel so grateful that, today, I have a mentor who I can learn from and whom I truly admire. I also love whenever I have the opportunity to support folks in the role of mentor — it is so special to build someone else's confidence,
Many entrepreneurs continue to perfect their daily routines to support their work and greater vision; would you mind sharing your morning routine or a regular ritual that grounds your work each day?
AO: One ritual that supports my work and greater vision is sleeping 8+ hours every night. I feel really lucky that I can sleep – I don't have kids and I take medication for my mental health that helps me comfortably rest. Sleeping helps me recharge so I can be 'on' during the day.
What are you reading or have read?
AO: The best book I have ever read is titled 'When Things Fall Apart' by Pema Chodron. This book helped me understand how to sit in the present, navigate through uncertainty and shakiness, and lean into hard situations. It has completely changed my life and made me a more relaxed person.
Where do you go for inspiration?
AO: I don't feel that I often intentionally seek out inspiration – although perhaps I should 🙂 However, I do often feel that I seek out work, conversations, and people that 'energize' me. Lately, I've been energized by my entrepreneurial friends Jaida & Katrina.
Do you have a favorite quote, mantra, or words of wisdom to get through the tough days?
AO: I love reflecting on the quote 'rejection is redirection'. I know that what is meant to be mine, will be, and when something doesn't quite work out the way I had hoped, it's because I wasn't ready yet or it wouldn't have ended up being the right fit.
What is a problem that keeps you up at night?
AO: I worry a lot about bullying and discrimination, and the impact both of these have on young people. Both are traumatizing during such formative years, and I feel so sad that these experiences are common and devastating.
How do you think about helping others through your work?
AO: That is all I want and hope for!! I always hope to make others feel cared for, loved, and seen.
What advice do you have for fellow (and aspiring) entrepreneurs building and leading teams?
AO: When building a team, especially an early one, I always suggest that you hire people who are 1) vision-aligned but 2) have a different, complementary skill set than you. Every person matters so much in the early days, and you want to ensure that you're on the same page about where the company is headed yet bring different skills to the table.
What kind of an entrepreneur do you want to be known as – as in, what do you want your legacy to be?
AO: I want to be known as someone who genuinely cares about others and always did her best. That's what matters most.
---
Do you have someone you'd like to nominate to be profiled in our Faces of Entrepreneurship series? Please let us know by emailing media@thecenter.nasdaq.org or submitting your nomination using this form.