Join Caitlin Roberson, Senior Director of Marketing at Layer to Learn How to Pitch Investors, Grow Teams & 'Best-Friend' Your Customers
Entrepreneurs don't start companies because it's good for anxiety. They do it because they believe in something, often for powerful & deeply personal reasons. Their vision inspires the best talent to swap golden handcuffs for startups no one's heard of & VCs to invest millions in single ideas.
Then, VCs say no.
Star performers leave.
Partners under-deliver.
Customers churn.
Such events often indicate entrepreneurs aren't yet storytelling like the badasses they are.
This session helps entrepreneurs distill & integrate their personal 'why' into company branding, messaging, and positioning—and practice a proven storytelling framework that inspires humans wired for purpose, in ways that scale with the company.
This session is for:
Pre-launch to launched (idea to prototype)
Launch (product/service being used by customers)
Growth (scaling customers, products/services and markets)
This session will cover:
How to distill your personal purpose into 3 core company values, mission/vision statements, and a tagline
How to design an 'umbrella narrative' that reflects the above (often called category creation)
How to teach your team to consistently share the same inspired story
OUR SPEAKER | Caitlin Roberson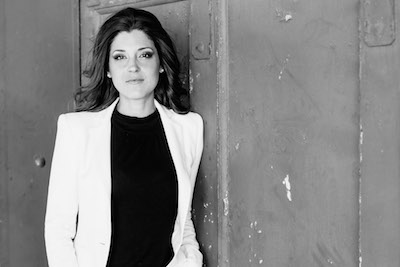 Caitlin Roberson is the Senior Director of Corporate Marketing for Layer.
Most recently, Caitlin was a partner on Andreessen Horowitz's market development team. She ran a16z's GTM events program, advised the portfolio, and helped define the Executive Briefing Center's strategic narrative, which engages global C-Level decision makers.
Previously, Caitlin built Skyword's west coast office/operations & B2B tech vertical via acquihire of her first content marketing agency, which served 25 SaaS clients and employed 15 contractors. As VP of Sales, West, she led storytelling workshops & brought critical perspectives to the Product Board. Before that, Caitlin served in Comms/PR/Exec Director roles at a nonprofit that trained doctors in 17 countries, one thousand educators, and helped 126M ppl gain insurance coverage for cochlear implants for the first time. 

---
About the Whole Entrepreneur:
Based on our research and interaction with thousands of global entrepreneurs, the Nasdaq Entrepreneurial Center has identified seven essential founder attributes: Creativity, Vision, Independence, Organization, Communication, Self-Confidence, and Leadership. Our programming is rooted in this philosophy by providing individualized learning paths for founders focused on their abilities as a leader to create long-term, sustainable growth.