Vikas Shah MBE joins us all the way from Manchester (UK) to share his story of the highs, lows, booms and busts of 25 years of entrepreneurship, after starting his first business at school.
Entrepreneurship is one of the most challenging, rewarding, stressful and liberating careers you could possibly embark on. In this talk, Vikas Shah MBE talks about starting a business aged just 13, growing through the .com boom and bust, rebuilding his career, and building success in new industries. He will talk about how to take-advantage of opportunities, build resilience, leadership skills, human skills and how to scale your enterprise.
This session will cover:
How to be an entrepreneurial leader
How to build resilience & deal with challenges
How to stay creative & inspired
Following the session, Vikas will invite participants to deliver pitches on not just their businesses, but themselves- encouraging them to be able to speak openly about successes, dreams, visions, and failures.
AGENDA
5:30PM – 5:45PM – Registration
5:45PM – 6:30PM – Presentation
6:45PM – 7:00PM – Audience Q&A
7:00PM – 7:30PM – Networking
OUR SPEAKER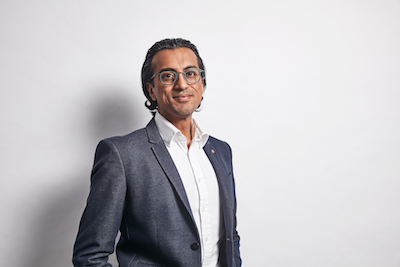 Vikas S. Shah MBE is a serial-entrepreneur, investor, thinker and educator who has built businesses in diverse sectors around the world for almost 20 years. He is also a consultant and advisor to numerous entrepreneurs, business and organisations globally.
Vikas is CEO of Swiscot Group (a diversified international trading business), a venture investor in numerous technology startups and businesses internationally, and co-founder of 53 Degrees North (a feature film studio). He was awarded an MBE in The Queen's 2018 New Years Honours List.
He is also an Honorary Professor of Business & Entrepreneurship at the University of Manchester Alliance Business School and Professor of Entrepreneurship on the MIT Sloan Lisbon MBA.
Vikas is also a multi-award winning writer, and his journal, 'Thought Economics" features his conversations with many world leaders, entrepreneurs, thinkers, artists, creatives and entertainers. The roster of individuals he has interviewed includes: Will.I.Am, Buzz Aldrin, Noam Chomsky, Sir Richard Branson, F. W. de Klerk, Bear Grylls, Moby, Philippe Starck, Sir James Dyson, Garry Kasparov, Ai Weiwei, HRH Prince Constantijn of the Netherlands, Maya Angelou, Usain Bolt, George Takei, Hans Zimmer, Jack Welch, Ed-Catmull, Steve Ballmer, close to 20 Nobel Prize Winners and the Presidents and Prime Ministers of nations including Mexico, Portugal, Poland, Estonia, Belgium and the Maldives.
Spaces are limited and offered first-come, first-served. By registering you agree to our terms of use.*