Suneel reveals how the key to success is the ability to persuade people to take a chance on potential
We are pleased to welcome Suneel Gupta for a fireside chat to discuss the takeaways from his new book – Backable. Suneel argues the key to success in business is not talent, connections, or ideas, but the ability to persuade people to take a chance on potential.
There's a reason why some people can get investors or bosses to believe in them while others cannot, and that reason has little to do with experience, pedigree or a polished business plan. Backable people seem to have a hidden quality that inspires others to take action.
After getting rejected by every investor he pitched, Suneel had a burning question: could "it" be learned? Drawing from lessons learned from hundreds of the world's biggest thinkers, this talk will share how to pitch new ideas that raised millions of dollars, influence large-scale change inside massive corporations, and even how he convinced his 8-year old daughter to clean her room.
Suneel's talk on his book Backable will reveal how the key to success is not charisma, connections, or even your resume, but rather your ability to persuade others to take a chance on you. If you are looking to become Backable, this event is for you!
OUR SPECIAL GUESTS
Suneel Gupta
Suneel Gupta is the co-founder of Rise and teaches Innovation on faculty at Harvard University. Using the 7 steps inside this book, Suneel went from being the face of failure for the New York Times to being the "New Face of Innovation" for the New York Stock Exchange. His ideas have been backed by firms like Greylock and Google Ventures, and he has invested in startups including Airbnb, Calm, and SpaceX. Suneel also serves as an emissary for Gross National Happiness between the United States and the Kingdom of Bhutan.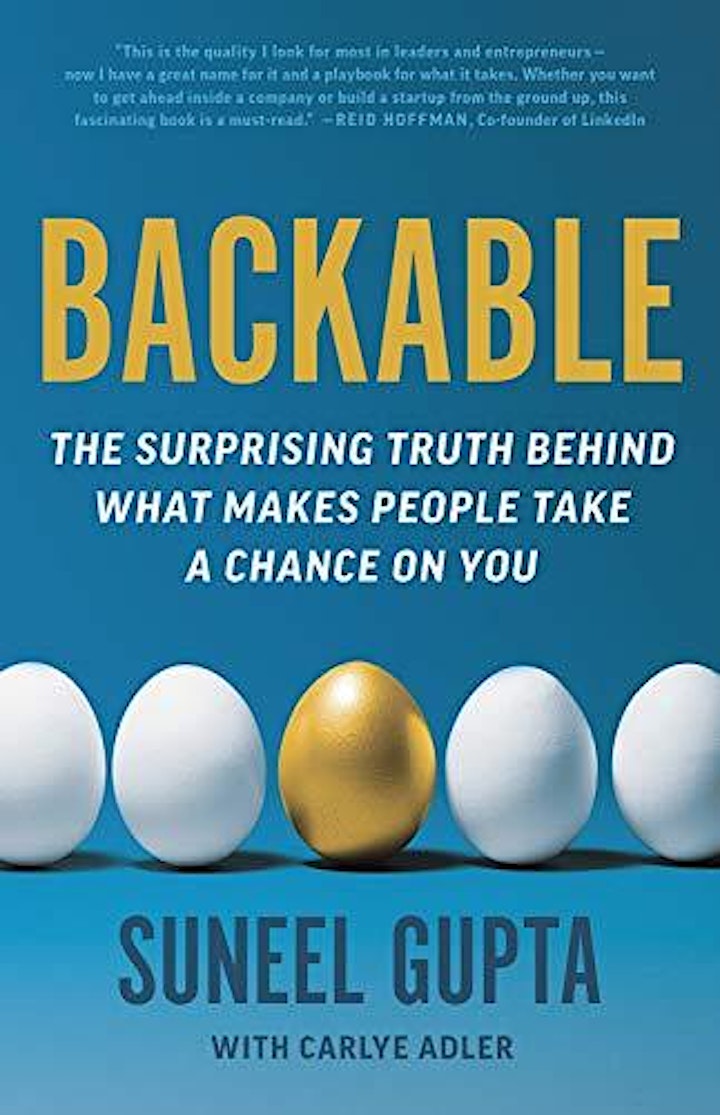 Praise for BACKABLE
"The most exceptional people aren't just brilliant…they're backable. This remarkable book can be your secret weapon for bringing your idea to life."—Daniel Pink, #1 New York Times bestselling author of When, Drive and To Sell is Human
"Whether you want to get ahead inside a company or build a startup from the ground up, this fascinating book is a must-read."—Reid Hoffman, Founder of LinkedIn
"This book is truly brave. I felt like I was sitting with Suneel as he unveiled secret steps that anyone can take to stand out and achieve their dreams."—Reshma Saujani, founder and CEO of Girls Who Code, bestselling author of Brave Not Perfect
"Being backable isn't just for celebrities and CEOs. It's a required skill for anyone who is trying to make it in the world. This book will change the trajectory of careers, launch new ideas into the world, and inspire cocktail party conversation for years to come."—Dr. Jennifer Aaker General Atlantic Professor at Stanford Graduate School of Business
"Suneel Gupta demystifies the "x-factor" I look for in leaders, activists and entrepreneurs. Becoming backable will change how the world sees you—and how you see yourself." —Brian Grazer, Oscar-winning producer
"Backable provides a super-readable and actionable look at how to make your ideas take flight. Whether you're pitching a brand-new startup or an idea for your company's next product, you'll find a wealth of insights and stories throughout." —Mike Krieger, co-founder of Instagram

The Nasdaq Entrepreneurial Center is a 501c(3) public charity whose mission it is to make entrepreneurship accessible to all. We deliver world-class resources and mentoring to enable every entrepreneur across the globe to realize their maximum potential. Please join us and make your gift to ensure these transformative programs may continue to reach the underserved.