Introducing Mentor Makers
A free mentor matching platform to ignite the exchange of knowledge and experience from business leaders in support of entrepreneurs of all backgrounds.
Our goal is 1 million mentor hours ignited by 50,000 community mentors in support of entrepreneurs.
Mentor Makers is a movement to inspire successful BUSINESS LEADERS from traditional and non-traditional backgrounds to offer their time and expertise as EXCEPTIONAL MENTORS. We vouch to help you with the inspiration and the tools you need to be game-changing mentors for entrepreneurs across all industries and geographies.
Entrepreneurs are the dreamers, doers, visionaries who are not only solving problems our community and world is facing today, but those that will create a better future for us all. Mentorship matters to all entrepreneurs; their success is dependent on it.
The Nasdaq Entrepreneurial Center, along with our partner MentorCloud, feel strongly there is more to be done to support ALL business owners, today, as they navigate this crisis and build from survivability towards recovery and opportunity. Industries, markets, technology, customers are rapidly changing around them at a faster pace than ever before. The one constant in business, both current and future state, is that entrepreneurs are visionary leaders making something out of nothing and hiring talent at rates exceeding any other industry. These entrepreneurs need our support for their benefit and for ours.
As Dr. Laura A. Jana, pediatrician and author of the Toddler Brain states, "from birth to death, the most important contribution to positive human development is a caring, responsive adult." This applies explicitly to business.
Mentor Makers is a movement to inspire great business leaders, from traditional and non-traditional backgrounds and give them the tools they need to be exceptional mentors to entrepreneurs across all races, industries, geographies. Together, we will build the greatest exchange bank of knowledge and expertise in service to entrepreneurs in business today.
The Opportunity
With extreme challenges business owners are facing due to the ongoing pandemic, the Small Business Association predicts in the next two months 24% of small businesses will close.
63% of business owners do not have professional guidance at the onset of their business. Yet, 92% of small business owners agree that mentors have a direct impact on their business (Forbes).
How do I become a Mentor?
Join us in empowering everyday entrepreneurs with timely mentorship.
Testimonials
"I have a thirst for identifying problems and crafting solutions. Coupled with my obsession for good design, I activate when I can share in the delights of others' passions and vision. Being a leader requires the student's mindset and I couldn't think of a better way to grow through my own mentorship journey through Mentor Makers."
"Mentor Makers is an incredible gift for all of those entrepreneurs who are looking for advice and support from experienced professionals no matter the stage of their business. Mentor Makers makes it simple to find the perfect Mentor at no charge to either party. This is indeed a game-changer for all parties."
"What could be better than an experienced entrepreneur shortening your learning curve?

When time is money this is a million dollar value."
"The Mentor Maker's program has been mind-blowing. The Mentors encourage to make decisions that promote us towards our visions, our goals. Absolutely transformational!"
"The Nasdaq Entrepreneurial Center clearly sees the future better than many organisations by creating the Mentor Makers programme, which encourages a give/take learning environment whilst creating a global community of leaders.

It was very refreshing to witness your humility and genuine interest/concern in my development, and I shall be seeking more sessions in the future."
"The mentors share profound insights that resonate deeply because they have been there before. I find myself taking a lot of notes and reflecting later on their nuggets of wisdom.

My startup is in a better place because of this community. And the impact is lasting. One of the mentors I met on the platform has joined my startup's advisory panel. I am truly grateful for the extraordinary network of mentors you have built and hope more entrepreneurs will take advantage of this fantastic resource. Thank you so much for what you are doing."
Our Approach:
Mentor Makers is a movement to inspire, source and train new mentors. We are building the first-ever exchange of intellectual capital and knowledge in support of entrepreneurs. Our approach is four parts:
A MOVEMENT
Great mentorship deserves to be acknowledged and shared
Great mentorship deserves to be acknowledged – and finding those entrepreneurs and founders who COULD be great mentors is a high priority.
This is our opportunity to identify great mentors from all backgrounds – particularly Black and brown leaders and others communities who have been traditionally underestimated or underrepresented – and create a nomination system where individuals can tag great leaders, people they look up to in their communities, in their families, and invite them to join our Mentor Makers movement.
INSPIRATION
Virtual (and free) events focused on mentorship best practices
To launch the Mentor Makers movement, we are hosting a series of virtual events with high profile, inspirational leaders. Topics will be focused on strategies and tips for how to be the best mentor you can be.
Attendance is free and sessions will be interactive, practical and inspirational.
Our next event: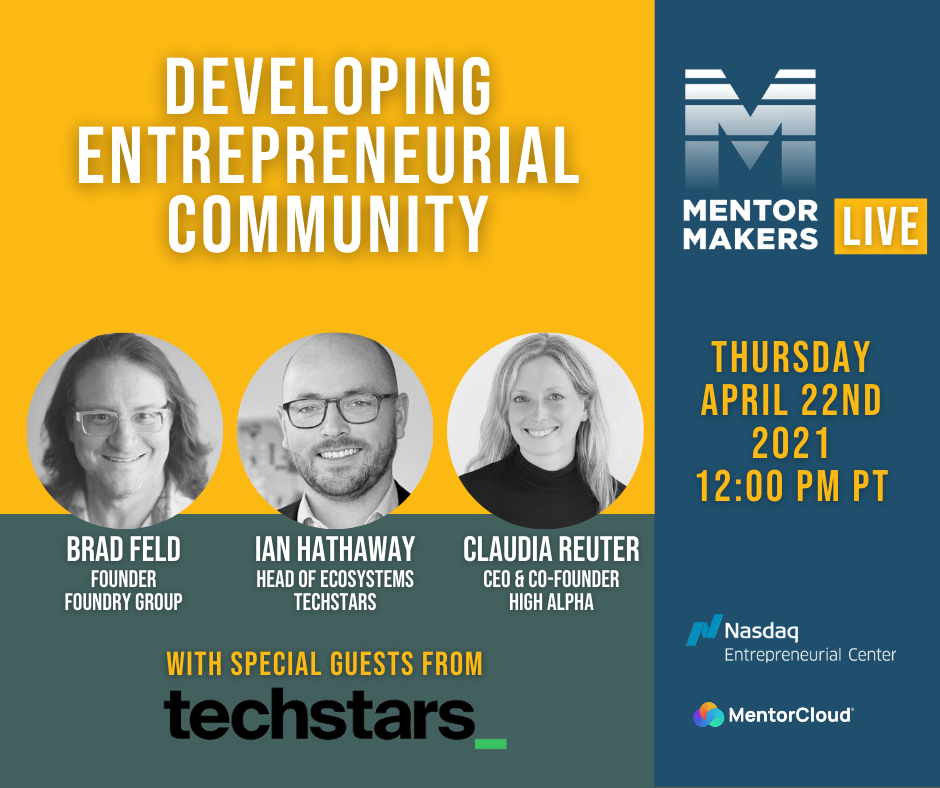 ASSESSMENT
An evaluation system to measure the value of mentorship
Mentorship is often mistakenly considered a soft, auxiliary benefit to building a successful business even though every successful entrepreneur attributes their success to having great mentors. Human interactions can be difficult to measure and existing mentorship studies are not robust enough to measure the true value and impact of mentors. We will develop a monitoring and evaluation system to longitudinally measure the tangible value of mentorship.
Join us for Mentor Makers' First Virtual Book Club Session on May 6th!
In Two Beats Ahead, the Global Design Director at IDEO and the Senior Vice President for Global Strategy & Innovation at Berklee College of Music interview some of the nation's top musicians and business leaders about how they approach innovation differently. This one-of-a-kind book shows how to thrive in an evolving world—from some of the top creative geniuses of our time.
The Mentor Makers Book Club is an exciting new networking opportunity for entrepreneurs. We promise you will leave this event with a renewed excitement to nurture a mentor relationship in your life and connect with fellow peers who can support you on your journey. Have you found your mentor?
Before attending we ask that you, READ THIS BOOK – Two Beats Ahead: What Musical Minds Teach Us About Innovation (Link to acquire is in the registration)
Mentor Makers LIVE Events:
#TAGAMENTOR
We invite you to celebrate mentorship with leading entrepreneurs, innovators, and change-makers by nominating an inspirational leader in your career. Be a part of the #TagAMentor challenge and join the movement with the Nasdaq Entrepreneurial Center in building the greatest exchange of knowledge and expertise in service to entrepreneurs in business today.
Here's what you need to do: Tag one or more mentors who have helped you along the way and challenge a colleague or friend to do the same. Just use #TagAMentor and #mentormakers in the post and tag us @nasdaqcenter. By acknowledging your mentors, we hope to encourage others to do the same.
Our Partners in the Movement
We invite you to join us as we start to build the greatest exchange of expertise and knowledge for entrepreneurs from all backgrounds in business today