Here at the Nasdaq Entrepreneurial Center we're committed to supporting you.
Below please find our current offerings, which will be updated weekly based on what we hear you need most.
---
Learn-Ins
Focused on a particular business area, we're leaning on our global community of expert teachers to share approaches, solutions, and valuable information around specific business topics you've shared you need the most. These one-hour webinars will be recorded live and available for viewing after the event as well.
Check out our upcoming Learn-Ins.
Recent Learn-Ins and other virtual content are now available on-demand.
---
Coaching Circles
Open to our Entrepreneur & Founder community, coaching circles are a 6-week commitment to solving your most pressing issues alongside an industry expert coach in the areas of business strategy, finance, marketing and people/culture. Alongside peers, Entrepreneurs and Founders will build clear next steps and the capacity to be productive & resourceful while facing immediate changing circumstances and adversity.
Please complete this form to express your interest.
---
Resource Page for Business Owners Responding to COVID-19
Easy to navigate and curated resources specific for business owners responding to COVID-19. There is an overwhelming amount of information out there from loans, to digitization of businesses, to meditation. This is designed as a one-stop shop, a front door to the information you need as an entrepreneur.
The Resource Navigator includes a wide variety of vetted, trusted sources on topics including Finance and Funding, Marketing and Sales, Business Strategy, HR + Operations, and Wellness and Community. One can also access a list of  free business tools available to entrepreneurs and business owners.
If there is a source you would like to submit for consideration, please email us at hello@thecenter.nasdaq.org.
---
Founders Leadership Series
On April 15, we were humbled and delighted to kick off our virtual Founders' Leadership Series with renowned holistic health expert and author, Deepak Chopra.
We heard from Deepak why now – more than ever – it's critical for entrepreneurs to cultivate & lean in to mindfulness. Deepak shared the need for spiritual well being during this time and launched a 21-Day meditation challenge just for entrepreneurs.
Be sure to sign up for the free 21-Day Meditation Challenge – Hope in Uncertain Times.
---
Virtual Town Hall
On May 26th, John Chambers, founder and CEO of JC2 Ventures, joined the Center for a virtual Town Hall to discuss "Leading Through Crises."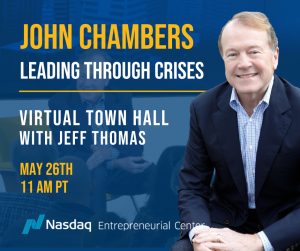 There are few great leaders in our world today who have had the breadth and depth of business experience as John Chambers, Chairman of Cisco, VC Investor, and author. In his prolific 20+ year career, John has led through 5 Financial, 5 Health Care, and 5 Supply Chain Crises.
John is well-known and appreciated for his commitment to mentorship to innovators worldwide. Don't miss this opportunity to learn how he is approaching his work and investments today, why mentorship is catalytic as a leader, when and how to ask for help, and when to listen to others. John will share his playbook on how to not just survive, but how to "connect the dots" in ways you may not see today.
This interactive town hall session was hosted by Jeff Thomas of Nasdaq, SVP, Head of Western US Listings & Capital Markets.
Topics we explore include:
Leading through seismic challenges
Planing for the short-term while building for the long-term
Seeing opportunity, especially in times of adversity
---
Stay tuned for more responsive programming to support and inspire you in this time.
Want to be kept in the loop? Sign up for our newsletter here if you haven't already.
Have a need or question we're not addressing? Let us know here.