Introducing the Center's new Impact on Innovators series in which we reconnect with some of the innovative, inspiring founders who are a part of our entrepreneurial community. Through this series we will shine a spotlight on the incredible entrepreneurs who have benefitted from the Center's programming and, as a result, are growing their businesses and thriving as leaders. Today, let's learn more about Aishetu Fatima Dozie and Bossy Cosmetics, Inc.
When Aishetu Fatima Dozie first applied to the Milestone Makers program in 2019 at the recommendation of her advisor and investor, James D. White, she wanted to use the opportunity to hone in on her unique selling proposition and clearly understand her target market. Her company, Bossy Cosmetics, had launched a couple of months before she applied, but, in her words, was "flailing all over the place!" She launched Bossy Cosmetics, an empowering and mission-driven beauty company, with a notion but didn't really understand who her customer was or should be.
The Milestone Makers program, to which she was accepted, is a 12-week immersive experience wherein a small cohort of entrepreneurs is selected to receive individualized business mentoring, coaching, training, and resources all at no cost. The goal is to help entrepreneurs set, hit, and celebrate milestones critical to company growth. Participants are matched with coaches and mentors who are leaders in their industry and given access to customized resources that meet each founder's needs.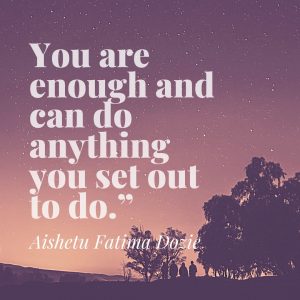 Aishetu's path to entrepreneurship started in investment banking where, as she says, she stayed for much longer than necessary. "It was a mixture of not knowing what I wanted to do with not feeling like my creative dreams were valid." When she developed high blood pressure, she knew she needed to make a change in the way she approached life. "I am so happy that I fell ill. That was the kick in the butt that I needed! I quit my job, took a fellowship at Stanford and began the process of learning Design Thinking."
Aishetu pinpointed her milestone to "identify my ideal customer and create a plan around delighting her so that she converts." Through the program, she learned how to think very clearly about customers and build profiles around those that will most likely connect with the brand voice.
It was during this program that Aishetu articulated that Bossy was "igniting confidence" in ambitious women. "I had always used the term 'empower' but I prefer ignition because it demonstrates that you are taking something that is already there but requires a catalyst to make it happen."
Entrepreneurs come to the Center at many different stages of business and with a variety of needs including skillset and mindset development. The Milestone Makers program seeks founders in the early-to-mid-stage of growing their businesses. The founder might be stuck, at a point of stagnation, or going through a period of high-growth and opportunity and need to be prescriptive about staying focused on achieving results. Aishetu suggests that the ideal participant in the program is "someone who already knows what they want to deliver in the marketplace."
By providing access to the Nasdaq Entrepreneurial Center's prestigious network, partners, and community, including professional resources offered by leading industry experts, Aishetu successfully achieved her critical business milestone.
On the mentorship she received, Aishetu says, "I have lots of mentors who don't even know that they are my mentor. Relationships are everything. You can't certainly know everything, but your networks can deliver so much value to your journey. Leverage them wisely."
Her time at the Center made her focus on customers more so than anything else and she credits that dedication to her now very successful business. "I scheduled calls with about 30 customers that I had never met to learn more about how they engaged with the brand. My company has sky-rocketed since the program because of this relentless discipline to focus on what our customers desire."
Today Aishetu is busy building Bossy Cosmetics, gracing the beauty and style pages of magazines and websites, loving her family, and living her best life.
---
The Fall 2020 cohort of the Milestone Makers program is currently accepting applications. To learn more or apply, click here. Applications are due August 2nd, 2020.