Dawn Kelly is the founder and CEO of The Nourish Spot, a fresh and healthy cold pressed juice, smoothie, and salad bar in Jamaica, Queens, NY. Dawn started this company with her daughter Jade to help residents in her community live longer more vibrant and vital lives through customizable consumption of organic produce after a 35 year career in global communications ended. Dawn will be sharing her experiences as an entrepreneur in this upcoming session: How to Grow Your Network with Dawn Kelly on May 18th, 2022. 
What does "entrepreneurship" mean to you?
Dawn Kelly: Entrepreneurship means freedom and liberty to engage in commerce and explore ownership with a purpose by offering a product or service in exchange for a value.
Tell us about your first experience with entrepreneurship.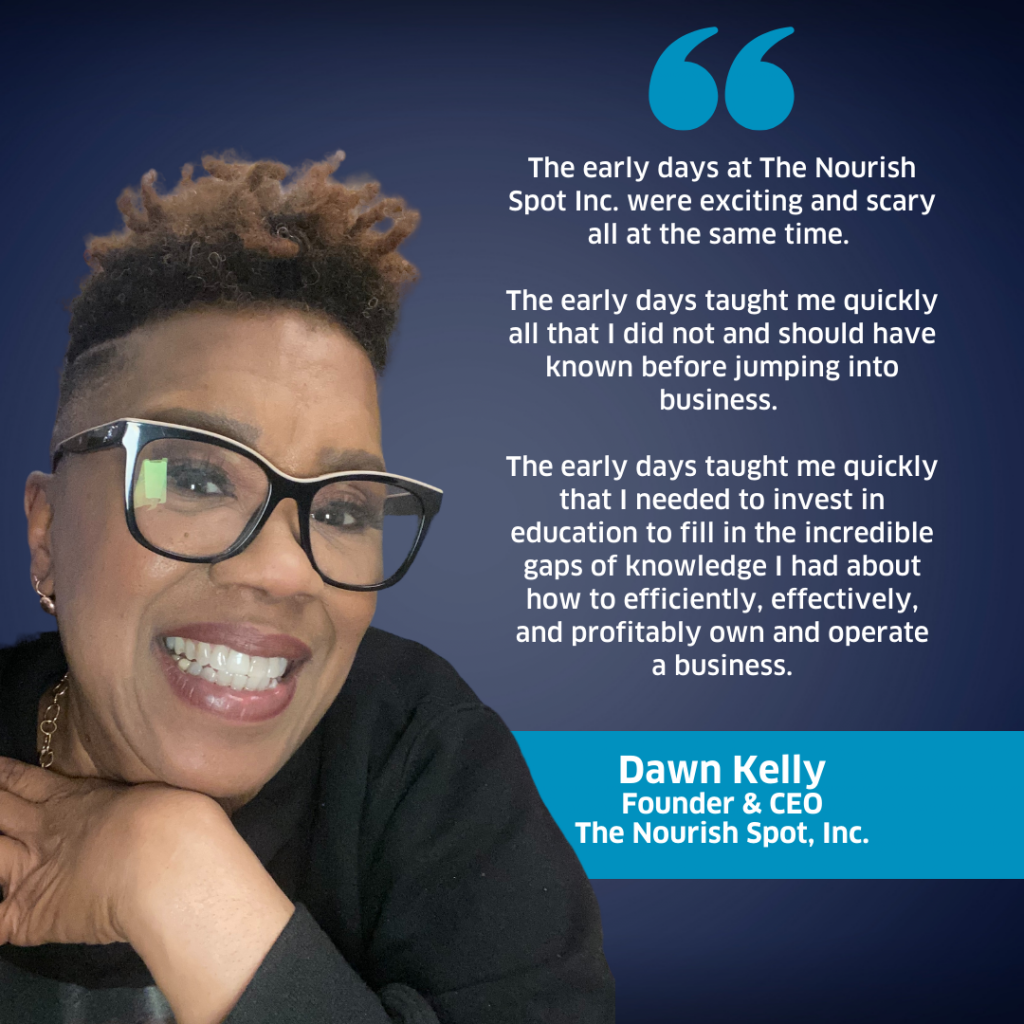 DK: My first blush with entrepreneurship is when people began bartering with me for public and media relations strategy in exchange for event tickets and more. My first enduring experience with entrepreneurship has been with The Nourish Spot, my family-owned, fresh and healthy cold pressed juice, smoothie, and salad bar.
What is your company's origin story? What is the biggest reason you started your business?
DK: The Nourish Spot Inc. was established on March 23, 2016, when my daughter Jade and I completed the initial paperwork to found the business. She worked to help me complete the paperwork after I made the personal decision to become an entrepreneur. You see, after having worked in nonprofit, education, and corporate arena, my days of working for someone else ended when I was alerted in September 2015 my role as Department Vice President of Global Communications had been eliminated.
I was devastated and felt like a failure that day. Felt like maybe I had done something wrong and was embarrassed to my core. I was an overachiever, began college at 16, and had never experienced job loss before. I was about to turn 53 and immediately felt that my age would work against me in the workplace too, so, with much prayer, I took a chance on faith and jumped in with both feet, afraid, to open my own fresh and healthy spot. It aligned with my life's situation, as I am on my own health journey.
Over my nearly 16 years with Prudential, I had gone from a dress size 8 to 16 and found myself under constant doctor's care and admonishment. I changed my diet, replacing smoothies for bagels and cream cheese, salads for sandwiches, drinking more water, walking 10K steps a day and sleeping eight hours. My biggest challenge was when I didn't feel like cooking and wanted a salad, I couldn't get the ingredients or a salad itself in my neighborhood. I had to drive at least 5-6 miles away to fulfill my dietary desires.
So, after watching a segment on CNN on rapper Styles P juice bar, Juices For Life, I was inspired to establish my own brand. I believed that others, in my neighborhood, were hoping for the same type of food and beverage experience. Using my severance and savings, on September 9, 2017 The Nourish Spot officially opened our doors for business and we have been open ever since. And by the way, I am back to a size 8.
What did those early days look like and teach you?
DK: The early days at The Nourish Spot Inc. were exciting and scary all at the same time. The early days taught me quickly all that I did not and should have known before jumping into business. The early days taught me quickly that I needed to invest in education to fill in the incredible gaps of knowledge I had about how to efficiently, effectively, and profitably own and operate a business.
What do you wish you knew when you started? Is there anything you would do differently?
DK: I wish I knew how to strategically price our products and services when we first started. We set ourselves to lose by not taking into account all our costs when pricing our products and services.
What does "success" look like for you?
DK: Success looks like being "in the black" for five or more consecutive years. Success looks like successful expansion into airports, golf courses, stadiums, entertainment venues like Disneyworld, Disneyland, Six Flags, and cruise ships.
My biggest, boldest dream is for The Nourish Spot to be a ubiquitous global and enduring brand. I believe that perseverance and partnership will help us achieve our biggest, boldest dreams.
What is your superpower as an entrepreneur?
DK: My superpower as an entrepreneur is my passion and media relations expertise.
What is your proudest and darkest moment so far?
DK: My proudest moment is working closely with my collegiate team to keep the store open throughout the pandemic. My darkest moment so far is having to borrow money from others to make payroll in 2022.
What are your personal driving principals, your top values?
DK: My personal driving principals, top values are making a difference, community, and exploration.
How have your personal principles and values shaped your company's values and principles? DK: Making a difference and community are two of my personal principles and values that have helped shape The Nourish Spot Inc.'s value and principles because our mission is to help our Nourishers live longer, more vital and vibrant lives.
What's it like to work alone or with your partners?
DK: Working with my partner, who is my daughter Jade, is extraordinary, fulfilling and sometimes frustrating at the same time. She helps me keep the operation running. We divide and conquer all of the detail-oriented assignments related to owning and operating The Nourish Spot.
Do you have a mentor?
DK: I have mentors in my head but not an official one right now. What would make a mentor valuable to me and to The Nourish Spot would be industry experience and lessons, creative thinkers who are visionary and far reaching with ideas, and financial wizards to help me with forecasting.
What role does mentorship play in your world (as a mentor or mentee)?
DK: Mentorship plays a very important role in my world because I believe that "to whom much is given, much is required!" so I have mentored and coached others my entire adult life. The Nourish Spot is a culinary, hospitality, marketing, and social media internship training ground. More than 250 young people have cycled through the various programs.
Many entrepreneurs continue to perfect their daily routines to support their work and greater vision; would you mind sharing your morning routine or a regular ritual that grounds your work each day?
DK: Every morning, I listen to gospel music. I pray and recite affirmations for an hour before starting my day.
What are you reading or have read?
DK: I read newspapers.
Where do you go for inspiration?
DK: I go to nature and listen to music for inspiration. I also look for inspiration in conversations with fellow entrepreneurs.
Do you have a favorite quote, mantra, or words of wisdom to get through the tough days?
DK: The sky is the limit and I am more than a conqueror.
What is a problem that keeps you up at night?
DK: The only problem that occasionally keeps me up at night is cash flow.
How do you think about helping others through your work?
DK: I believe helping others through my work is part and parcel of our mission. We are in business to nourish others – their bodies, minds, and lives. I am always looking for ways to address our whole customer and so we use our social media platforms to showcase health and wellness education, civics101, employment information and community fun events and activities.
What advice do you have for fellow (and aspiring) entrepreneurs building and leading teams?
DK: Identify what roles are needed for your team and what the responsibilities for each of the roles will be before hiring.
What kind of an entrepreneur do you want to be known as – as in, what do you want your legacy to be?
DK: I want to be known as an entrepreneur that persisted. I want to be known as an entrepreneur that lifted others as she climbed.
---
Do you have someone you'd like to nominate to be profiled in our Faces of Entrepreneurship series? Please let us know by emailing media@thecenter.nasdaq.org or submit your nomination using this form.