How to Sell Online, Overseas
Join us for
Foundations of Global eCommerce: How to sell online, overseas
The eCommerce Innovation Lab (EIL – a division of the U.S. Department of Commerce's Commercial Service) and the Global Retail Insights Network have developed an interactive workshop that helps companies develop a strategy for taking their online business global. Learn from the leaders in the space about what is and isn't working for them and leave with actionable takeaways. The EIL and GRIN run 20+ labs around the world including China, Singapore, Japan, India, the UK and more.
Learn how to go global in the new year!
OUR SPEAKERS

Carl Miller, Managing Director, Global Retail Insights Network Inc
Carl Miller is the Founder and Managing Director of the Global Retail Insights Network (GRIN), the principal not-for-profit global community for e-commerce professionals. Carl founded the GRIN to help cross border retailers lead and innovate through knowledge and collaboration. He previously led the retail practice at GlobalCollect (an Ingenico company), where he worked with top retailers, helping them develop global e-commerce strategies. Carl is studying innovation at the Haas School of Business executive education program, and has been designated as a 'Top of the List E-Commerce Professional' by the San Francisco Business Times for his innovation around B2C services.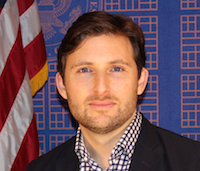 Josh Halpern, Director of The eCommerce Innovation Lab (U.S. Department of Commerce)
Josh Halpern launched the U.S. Department of Commerce's eCommerce Innovation Lab, based in Silicon Valley, California in 2016. Mr. Halpern's role includes leveraging private sector solutions and the International Trade Administration's global reach to drive U.S. exports of goods and services through ecommerce channels.
From 2011 through 2015, Joshua Halpern led the eCommerce, Retail, Franchise and Logistics portfolios for the U.S. Embassy in China where he and his team provided market-entry consulting for U.S. companies entering China. He speaks regularly at industry conferences across the U.S. and China and has won U.S. State Department and Department of Commerce awards for his innovation in management and public-private ecommerce solutions. One of his key initiatives is the Getting to Global Series, a public/private partnership to deliver content and tools to help companies "sell more online, overseas" at www.gettingtoglobal.com.
Mr. Halpern is a commissioned and tenured Foreign Service Officer, holds a B.F.A. from New York University's Tisch School of the Arts, an MBA from INSEAD and an EMBA from Tsinghua University.